"Waiting On" Wednesday is a weekly event, hosted by Breaking the Spine, that spotlights upcoming releases that we're eagerly anticipating.
This week's pre-publication "can't-wait-to-read" selections are:
(Tales from Shadowhunter Academy #1)
by: Cassandra Clare & Sarah Rees Brennan
After living as a Mundane and a Vampire, Simon never thought he would become a Shadowhunter, but today he begins his training at Shadowhunter Academy.
How can someone that have read and loved Cassandra books of the shadowhunters will not be excited for this release? Tell me. Becuase I'm waiting not too patiently for this book. I try not to give a lot of head, because if not I will go nuts. Yes, it has a title. Yes, it was a supposed release day on
February 17
. BUT this isn't the final cover and we do not have more information about these bunch of short stories that are going to be out soon. Just like The Bane Chronicles, there will be release one each month and then, maybe, a book with all of them (which I'm hoping will come out). I want more news, I want more covers... I want MORE! What about you?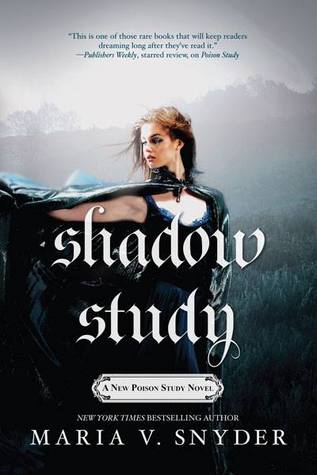 (Soulfinders #1)
by: Maria V. Snyder
Once, only her own life hung in the balance.
Oddly enough, when Yelena was a poison taster, her life was simpler. But she'd survived to become a vital part of the balance of power between rival countries Ixia and Sitia. Now she uses her magic to keep the peace in both lands and protect her relationship with Valek.
Suddenly, though, they are beset on all sides by those vying for power through politics and intrigue. Valek's job - and his life - are in danger. As Yelena tries to uncover the scope of these plots, she faces a new challenge: her magic is blocked. She must keep that a secret - or her enemies will discover just how vulnerable she really is - while searching for who or what is responsible for neutralizing her powers.
Yes, the days of tasting poisons were much simpler. And certainly not as dangerous.
You see, I'm a big fan of the Study trilogy and I knew when I finished the books that there was going to be more. So I waited, waited and waited... The result is beautiful and will be release on February 24. I haven't read it (which its driving me nuts, because Netgalley didn't approve my request), but I know I know that it will be perfect. I just hope that it doesn't have any cliffhangers. Yelena + Valek = means one of my favorites OTPs ever. If you haven't read the Study series, you should.
What are you waiting on?