From the book you're currently reading, or one you just finished, tell us what made you SWOON. What got your heart pounding, your skin tingling, and your stomach fluttering.
Shout it out on Twitter with the hashtag #YABound, post it here in the comments, or grab the steamy button and share it on your blog. We want to know!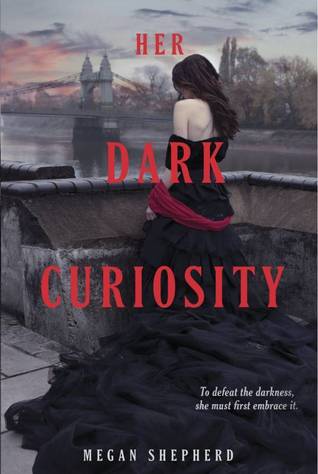 (The Madman's Daughter #2)
by: Megan Shepherd
To defeat the darkness, she must first embrace it.
Months have passed since Juliet Moreau returned to civilization after escaping her father's island—and the secrets she left behind. Now, back in London once more, she is rebuilding the life she once knew and trying to forget Dr. Moreau's horrific legacy—though someone, or something, hasn't forgotten her.
As people close to Juliet fall victim one by one to a murderer who leaves a macabre calling card of three clawlike slashes, Juliet fears one of her father's creations may have also escaped the island. She is determined to find the killer before Scotland Yard does, though it means awakening sides of herself she had thought long banished, and facing loves from her past she never expected to see again.
As Juliet strives to stop a killer while searching for a serum to cure her own worsening illness, she finds herself once more in the midst of a world of scandal and danger. Her heart torn in two, past bubbling to the surface, life threatened by an obsessive killer—Juliet will be lucky to escape alive.
With inspiration from Robert Louis Stevenson's The Strange Case of Dr. Jekyll and Mr. Hyde, this is a tantalizing mystery about the hidden natures of those we love and how far we'll go to save them from themselves.
my fave swoon over scene so far... (69% pages in)
He tucked a loose strand of my hair back tenderly. When I dared to look into his eyes, I was surprised to find them absent of any judgment. "I already knew, Juliet."
I swallowed. "What?"
"I saw what you did that night. It took me a long time to understand how you could do such a thing, and it frightened me, too, for a while. But I know you. I love you. You did it for the greater good. You see a chance for redemption in even the darkest beast." He titled my chin up. "You're brilliant like your father, but you've none of his cruelty. I thought I might have lost you tonight, and I discovered there's nothing in the world that frightens me more. I want to always be with you."
He touched his lips to mine. "Marry me," he whispered.
My heart stopped. The world stopped.
It can be weird scene if you don't know the whole story, but the thing is how he ask her to marry him, which for me is swoon worthy. That's my Swoon Over Scene!