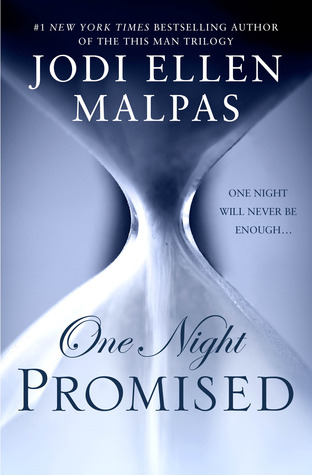 Promised (One Night #1)
by: Jodi Ellen Malpas
★★★★☆
Livy notices him the moment he walks into the coffee shop. He's heart-stoppingly stunning, with a blue-eyed gaze so piercing she's almost too distracted to take his order. When he walks out the door, she thinks she'll never see him again. Then she finds the note he left on his napkin . . . signed
M
.
All he wants is one night to worship her. No feelings, no commitment, nothing but pleasure. Every defense mechanism Livy has adopted during her solitary life is at risk of being obliterated by this confounding man. He's obnoxious but well-mannered. He's a gentleman but aloof. He's passionate but emotionless. Yet the fascination is so powerful, Livy can't deny him... or herself.
M awakens something in Livy, something deep and addictive that she never knew existed -- and that she fears only he can satisfy. But she senses that behind the fast cars, fancy suits, and posh apartment, he's aching inside. To have him, body and soul, she'll have to brave his dark secrets. Delving into his world and breaking down his defenses become her obsession - an obsession that could shatter her heart beyond repair.
my thoughts
Once again, I have fallen over a fictional man made by JEM. After Jesse, I practically swore that I would read any book by her, so when rummors started and then it was confirmed, I went nuts. I have to read, but I contain myself, because her cliffhangers are terrible, so I wait and wait and wait. When I received an ARC in netgalley of the last two books... I just have to read them. It was worth the wait.
This story is very different from
This Man
, because somehow I thought that it was going to be similar but its not and I'm really happy. With every turning page, I was "what the fuck is happening?". There were funny parts, romance, sexy streamy parts, and fuck-up parts. I love the narration of her point, but somehow I wish to have his insight too. Olivia Taylor, Livvy, isn't like
Ava
(from
This Man
). Livvy has guts to fight even more than Ava (which I loved). But what I loved the most that HE was not the only fuck up person with a strange past, SHE has it too and its totally nerve wraking not to know. He is
M
and I really don't want to say his name because well, its basically a spoiler. He is handsome, mysterious and a jerk (at first and at some parts). I love jerks!
I swallow this book quite fast, because it was very long, but I didn't mind. When the pages started to raise the numbers I was really confused because how was this going to end. The end wasn't exactly a cliffhanger, but it does left you hanging and wanting to know more. As opposite to This Man, he was the one that was a "wreck" at the end, but this book they both are a wreck because of secrets. Excuse me for keep comparing the author books, but its kind of hard not to.
Overall, I really really love the book, but something (for me) was missing and I cannot pin-point it. Sure I will keep reading the series and you will heard me talking about these books more, so I'm hoping for the best.