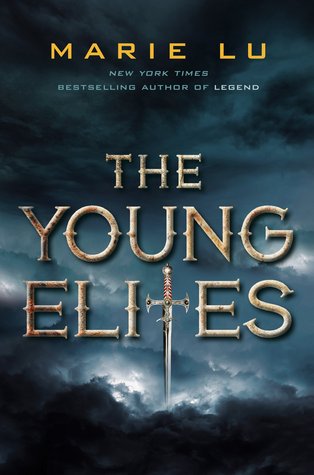 The Young Elites
(The Young Elites #1)
by: Marie Lu
★★★★★
I am tired of being used, hurt, and cast aside.
Adelina Amouteru is a survivor of the blood fever.
A decade ago, the deadly illness swept through her nation. Most of the infected perished, while many of the children who survived were left with strange markings. Adelina's black hair turned silver, her lashes went pale, and now she has only a jagged scar where her left eye once was. Her cruel father believes she is a malfetto, an abomination, ruining their family's good name and standing in the way of their fortune. But some of the fever's survivors are rumored to possess more than just scars—they are believed to have mysterious and powerful gifts, and though their identities remain secret, they have come to be called the Young Elites.
Teren Santoro works for the king.
As Leader of the Inquisition Axis, it is his job to seek out the Young Elites, to destroy them before they destroy the nation. He believes the Young Elites to be dangerous and vengeful, but it's Teren who may possess the darkest secret of all.
Enzo Valenciano is a member of the Dagger Society.
This secret sect of Young Elites seeks out others like them before the Inquisition Axis can. But when the Daggers find Adelina, they discover someone with powers like they've never seen.
Adelina wants to believe Enzo is on her side, and that Teren is the true enemy. But the lives of these three will collide in unexpected ways, as each fights a very different and personal battle. But of one thing they are all certain: Adelina has abilities that shouldn't belong in this world. A vengeful blackness in her heart. And a desire to destroy all who dare to cross her.
It is my turn to use. My turn to hurt.
my thoughts
"I knew what my father spoke of. He was referring to very specifc malfettos - a rare handful of children who came out of the blood fever with scars far darker than mine, frightening abilities that don't belong in this world. Everyone talked about these malfettos in hushed whispers; most feared them and called them demons. But I secretly held them in awe. People said they could conjure fire out of thin air. Could call the wind. Could control beasts. Could disappear. Could kill in the bling of an eye. [...] No matter the opinion, everyone knew their names. The Reaper. Magiano. The Windwalker. The Alchemist. The Young Elites."
After loving so much the Legend books by the same author of this book, I knew I had to read anything she would write in the future. I really wanted to wait until at least the second book came out, but I couldn't. I needed to read this and I did. Now I kind of regret it because I need to wait eight months until the release of the next book and even more for the last one. BUT I did not regret reading it at all. I enjoy it, I love it.
"Violetta, soon you're going to realize that things don't end well for everyone. Some of us are broken and there's nothing you can do to fix it."
Adelina couldn't be more wrong. She, first, was living with her father and sister, but after some unfortunate events she ran away, kill her father, was trapped by the Inquisition and without a trial was going to die. Surely, she couldn't die in the first chapter, so let's say that this charming Reaper recue her from the flames and her power help her to flee. And that's how she join the Young Elites. They taught her everything she must know to survive and control her powers, but there was something off, her sister was trap in an Inquisition jail. The Lead Inquisitor, Teren, made a deal with her to not kill her sister if she tells him all about the Young Elites. Will she betray them?
"You are not an abomination. You are not merely a malfetto. That is why they fear you. The gods gave us powers, Adelina, because we are born to rule."
This world is how any fantasy must be made of. In world were the crown rule and fear the malfettos, making them the evil team and meaning the cruel kids with wicked powers the good team. The tables can turn at any time. You cannot be caught in the wrong side and I fear that Adelina did not choose well and that brought terrible consequences to her and her love ones. When kids like you feed you, train you and give you their friendship or treat you like family, you cannot stab them in the back. You must embraze family, she did not. But at the end, the same family give her their back because of it, so her consequences are only hers. Now with only her sister, she must fight whoever used her, even if those people were before her family.
"I pledge myself to the Rose Society until the end of my days, to use my eyes to see all that happens, my tongue to woo others to our side, my ears to hear every secret, my hands to crush my enemies. I will do everything in my power to destroy all who stand in my way."
The book is just one word: perfect. After that end, I knew why the next book was called the Rose Society. If I were to live in that world, I would chose that instead of the Dagger Society. They didn't trust or give second chances, their loss. Now, waiting for october to arrive with my birthday and the next book of this trilogy.
"Embellish your flaws. They will turn into your assets."