Teaser Tuesdays is a weekly bookish meme, hosted by MizB of Should Be Reading. Anyone can play along! Just do the following: grab your current read; open to a random page; share two "teaser" sentences from somewhere on that page; BE CAREFUL NOT TO INCLUDE SPOILERS! (make sure that what you share doesn't give too much away! You don't want to ruin the book for others!); and share the title & author, too, so that other people can add the book to their TBR lists if they like your teasers!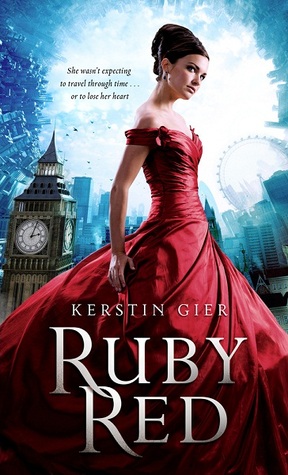 (The Ruby Red Trilogy #1)
by: Kersten Gier
Sixteen-year-old Gwen lives with her extended - and rather eccentric - family in an exclusive London neighborhood. In spite of her ancestors' peculiar history, she's had a relatively normal life so far. The time-traveling gene that runs like a secret thread through the female half of the family is supposed to have skipped over Gwen, so she hasn't been introduced to "the mysteries," and can spend her time hanging out with her best friend, Lesly. It comes as an unwelcome surprise when she starts taking sudden, uncontrolled leaps into the past.
She's totally unprepared for time travel, not to mention all that comes with it: fancy clothes, archaic manners, a mysterious secret society, and Gideon, her time-traveling counterpart. He's obnoxious, a know-it-all, and possibly the best-looking guy she's seen in any centrury . . . .
my teaser
"The password?"
Quark edit bisquitis. Or something along those lines.
"Qua redit nescitis," said Gideon.
Well, I'd had it almost right.
I'm almost finishing this book! Its really really good, but I'm so lost almost by every page I pass. I which to know more, but if I'm lost the main character is worst that me because she has shit idea of what is happening. Basically almost no one knows, except maybe Gideon and its something she detests, at beginning only. Gonna keep reading it, lets see if I can finish it today.