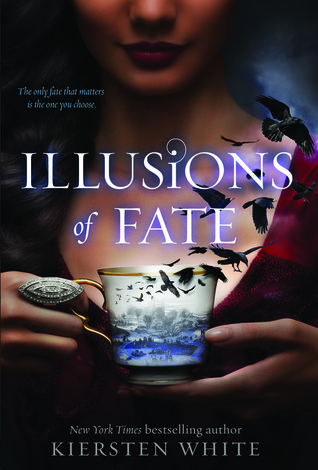 Illusions of Fate
by: Kiersten White
★★★★★
Downton Abbey meets Cassandra Clare in this lush, romantic fantasy from New York Times bestselling author Kiersten White.
"I did my best to keep you from crossing paths with this world. And I shall do my best to protect you now that you have."
Jessamin has been an outcast since she moved from her island home of Melei to the dreary country of Albion. Everything changes when she meets Finn, a gorgeous, enigmatic young lord who introduces her to the secret world of Albion's nobility, a world that has everything Jessamin doesn't—power, money, status…and magic. But Finn has secrets of his own, dangerous secrets that the vicious Lord Downpike will do anything to possess. Unless Jessamin, armed only with her wits and her determination, can stop him.
Kiersten White captured readers' hearts with her New York Times bestselling Paranormalcy trilogy and its effortless mix of magic and real-world teenage humor. She returns to that winning combination of wit, charm, and enchantment in Illusions of Fate, a sparkling and romantic new novel perfect for fans of Cassandra Clare, The Madman's Daughter, and Libba Bray.
my thoughts
"A well-wielded pen is a woman's best weapon."
How do I begin to talk about this beautiful book? I don't know, but let's start saying that it was very beautiful written, such lovely romance, action packed, worth characters and a beautiful ending. That is the combination of my most favorite books. I have always wanted to read a Kiersten White book, and not that I have, I want to read them all.
"I watch, bewildered as he walks away, his shadow stretching longer than any others around him, like it wants to stay."
Magic is where you least expect it and that's exactly what Jessamin discovers after meeting the handsome Finn. A stranger who helps her in every way he can, not just because she is in danger thanks to him, but because he is actually facinated by her. The first time they met, you can actually see how much they fit together. As the story begins you notice small things he do for her sake and viceversa. The biggest danger is out there waiting for them to split up and be lost. Will they survive? Lover conquers all, I asumed you knew that.
"I wish many things, but I wish I had been able to tell you that I love you, in so many more ways than that word can convey in Alben."
This couple is what my dream OTP is made of. They were so perfect that even in the last scene, which would make weep anyone, make me laugh (and cry too) of happiness. It was the best happy ending ever written for me. I'm very picky with ending, but I love this one. I want you to read this book. To read these beautiful words and fall in love with this world and its characters. I'm sure you will not regret it.
"My lips meet his, and I do not resign myself to this fate. I claim it as my own. Forever."