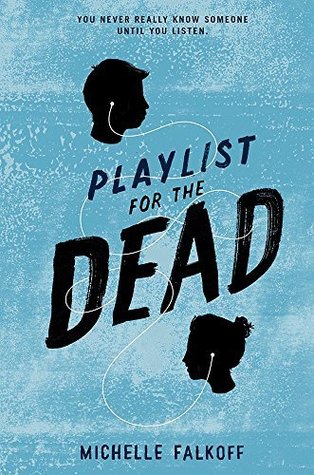 Playlist of the Dead
by: Michelle Falkoff
★★★½☆
A teenage boy tries to understand his best friend's suicide by listening to the playlist of songs he left behind in this smart, voice-driven debut novel.
Here's what Sam knows: There was a party. There was a fight. The next morning, his best friend, Hayden, was dead. And all he left Sam was a playlist of songs, and a suicide note: For Sam—listen and you'll understand.
As he listens to song after song, Sam tries to face up to what happened the night Hayden killed himself. But it's only by taking out his earbuds and opening his eyes to the people around him that he will finally be able to piece together his best friend's story. And maybe have a chance to change his own.
Part mystery, part love story, and part coming-of-age tale in the vein of Stephen Chbosky's The Perks of Being a Wallflower and Tim Tharp's The Spectacular Now, Playlist for the Dead is an honest and gut-wrenching first novel about loss, rage, what it feels like to outgrow a friendship that's always defined you—and the struggle to redefine yourself. But above all, it's about finding hope when hope seems like the hardest thing to find.
The first thought I want to acknolegde is saying that the blur/sypnosis is totally true. Is an honest and gut-wrenching novel about loss, rage, the struggle to redefine yourself, but most of all to find hope when it seems that hardest thing to find. Its ALL true... The book was so well written that I felt it and I kind of did not like that (in the good way).
The story began very simple, but it became so complicated after that. Hayden kill himself and his best friend found him, leaving alone and with a playlist and a note saying that it was for him that he would understand if he hear it. After that Sam began to search for the truth, why Hayden really kill himself. Sam founds himself learning things and friends of Hayden that he didn't knew, because Hayden never told him and kept as a secret. Its heart breaking to read this book and learning from it is hard when it doesn't has a real end (that's what I believe).
"People are going to say a lot of things. And some of it will be helpful, and some of it will be annoying, and lots of it will get on your nerves. But they're saying it because they found it helpful when they lost someone. They mean well."
I must warn that, for me, everything in this book is sad and when it was happy... it was simply destroyed and not really repaired. I liked Sam's character, but he thinking that it was all his fault was not good for me, eventhough its very real to feel that way. I wanted a happy ending! Damn, the book began with someone dying, so why not ending it with a good future. It end with a hopeful future, but not a well established one. I wanted to know more about some characters. I hate what drove Hayden to commite suicide. Its so easy to talk, but nor everyone hears or understand. I felt him, eventhough he wasn't there. What I really like was all the music. In every chapter there was a song (from Hayden playlist) that the author tells you to hear. I actually heard them all and they were very fitting for every chapter. If you read the book, hear the music too.
People, suicide is not the answer. I would recommend this kind of books to those who think it is a solution, because if you do it... you leave people behind with a lot of questions, just like this Sam character. If you are having a rough time, think it through, search help because whatever is consuming your mind is temporary. Read books, do art, a world of posibilities is out there, take the risk and do not become one more number in stadistics. Read THIS book.