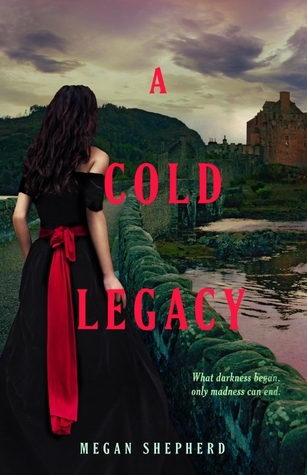 A Cold Legacy
(The Madman's Daughter #3)
by: Megan Shepherd
★★★★★
After killing the men who tried to steal her father's research, Juliet—along with Montgomery, Lucy, Balthazar, and a deathly ill Edward—has escaped to a remote estate on the Scottish moors. Owned by the enigmatic Elizabeth von Stein, the mansion is full of mysteries and unexplained oddities: dead bodies in the basement, secret passages, and fortune-tellers who seem to know Juliet's secrets. Though it appears to be a safe haven, Juliet fears new dangers may be present within the manor's own walls.
Then Juliet uncovers the truth about the manor's long history of scientific experimentation—and her own intended role in it—forcing her to determine where the line falls between right and wrong, life and death, magic and science, and promises and secrets. And she must decide if she'll follow her father's dark footsteps or her mother's tragic ones, or whether she'll make her own.
With inspiration from Mary Shelley's Frankenstein, this breathless conclusion to the Madman's Daughter trilogy is about the things we'll sacrifice to save those we love—even our own humanity.
my thoughts
Well, shit got real... that's how this book was. I'm pretty sure that I swallowed these books in so little time that I maybe did some kind of record in my stats. The story is so fascinated that I have no words to describe it. You are searching something epic, terrorific, lovely and scientific, this trilogy is your pick.
"How do you ignore the voices in your head? The ones that won't let you just be happy. The ones that want more out of life. More like what men are free to do -- study what they want, go where they want, BE who they want."
After escaping from London, the bunch (Juliet, Montgomery, Lucy, Edward and Balthazar) are in Scottland, very very far away. If they thought London had terrors, this manor will be out of their minds. Everything is off once they step inside of it. No matter how strange their surroundings are they must find a cure to Edward now that he is almost lost. But to cure him, he has to die... can anyone come back from the death? After that, someone was following them and it wants revenge, will the bunch survive?
"How could I be found, when my soul was this lost?"
I love this conclusion! As I said, I do not have too many words about this ending, because it was very good and there isn't any more words to describe it how good it was. No words! But I have to say that I cried in a couple of times... there was death of characters I really like and then I smiled when characters I didn't like dies (is that rude? don't think so). Plus this book was plot twist after plot twist, there wasn't a time that I had to look around me to see if it was real what I was reading (of course it was, the words didn't change).
"Love can sometimes do the impossible."
What I really really love was Montgomery and Juliet's relationship and even more how they treat Balthazar, like family. I love all the love in this book. Let me just finish like this: I love it!