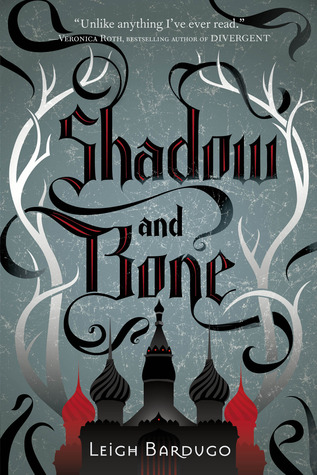 Shadow and Bone
(Grisha #1)
by: Leigh Bardugo
★★★★★
Surrounded by enemies, the once-great nation of Ravka has been torn in two by the Shadow Fold, a swath of near impenetrable darkness crawling with monsters who feast on human flesh. Now its fate may rest on the shoulders of one lonely refugee.
Alina Starkov has never been good at anything. But when her regiment is attacked on the Fold and her best friend is brutally injured, Alina reveals a dormant power that saves his life—a power that could be the key to setting her war-ravaged country free. Wrenched from everything she knows, Alina is whisked away to the royal court to be trained as a member of the Grisha, the magical elite led by the mysterious Darkling.
Yet nothing in this lavish world is what it seems. With darkness looming and an entire kingdom depending on her untamed power, Alina will have to confront the secrets of the Grisha . . . and the secrets of her heart.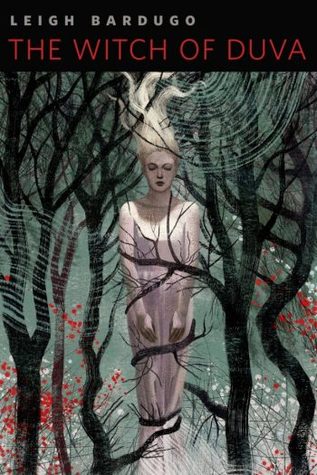 The Witch of Duva
(Grisha #0.5)
by: Leigh Bardugo
★★★★★
There was a time when the woods near Duva ate girls...or so the story goes. But it's just possible that the danger may be a little bit closer to home. This story is a companion folk tale to Leigh Bardugo's debut novel,
Shadow and Bone
.
The Tailor
(Grisha #1.5)
by: Leigh Bardugo
★★★☆☆
New scene from
Shadow and Bone
told from
Genya's
point of view.
my thoughts
"The problem with wanting," he whispered, his mouth trailing along my jaw until it hovered over my lips, "is that it makes us weak."
FINALLY! After eons I finally read this book. I say after eons because I had it in my TBR shelf from the very beginning (a little bit after the scond book came out). My intentions were to wait until the last book came out, but it did and the first book was patiently waiting for its two siblings and me to pick it up and read it. Guess what... it siblings aren't arrive (haven't bought them), but I did pick it up and read the book. I deserve an applause, right?
"I've been waiting for you a long time, Alina" He said. "You and I are going to change the world."
The book went better than expected *thumbs up*. I'm fascinated by its fantasy, its world and its characters. The prologue and the epilogue are written in third person, looking at the orphans. But the rest is told by Alina's point of view, who is one of the orphans. These two are friends from the moment they were orphan and they grew up together in the same house, so it was very predictible that they were going to stay together (or at least near) in the Second Army. I have a hard time learning how to say the name of almost everyone and everything, but where they live is at war with the other countries that surrond it. Now, there is this Shadow Fold (which is like a very dark fog) that surronds their country. In there are some creatures called volcra, which eat humans. Second Army was planning to cross that fold to investigate the other countries by sea. The volcra attacked, Alina was in danger and all hell broke lose. Just like that, she was a Grisha and the most powerful of all, the Sun Summoner.
"The moment our lips met, I knew with pure and piercing certainty that I would have waited for him forever."
As I said, the story is fascinating. Alina isn't the perfect character, but I liked her ways. Mal was one of my favorites from day one alongside with Genya, Baghra and the Darkling. After reading the first ten chapters you can see that Alina had being a Grisha from day one, but she was so afraid of being apart from his only friend, Mal, that she hide herself. You also notice the deep love they have for each other, but it clouds your mind when the Darkling enters to the story. He is quite a guy, very handsome and powerful. I did like him, a lot. But someone was to be the villain. Baghra is an old woman that has a lot of information inside of her, but doens't let it go until the very end, which infuriate me.
"It hurts, but I can bear it. Because I am a doll, and a servant. Because I am a pretty thing and a soldier all the same."
Now, Genya is another story. She is a Tailor, as the title of her short story says. But not a normal tailor, someone that make clothes. She tailors yourself, meaning your looks. Like skin, eyes, hair, yada yada. I like her after being so nice to Alina, but something of her was always wrong. It was until I read this short story that I notice all of it. Basically, she is a traitor that doesn't forgive herself what she done. She betrayed Alina's trust and even though she forgives her, Genya doesn't accept it (for what I gather). I wish her the best with David and hope that she would think clear and join the good team.
"I don't care if you danced naked on the roof of the Little Palace with him. I love you, Alina, even the part of you that loved him."
The story between Mal and Alina is one of the best I have read in fantasy. I swear that their love was little by little introduced in my mind without me noticing. It was at the end that I finally discovered that I ship them very hard. I hope the best for them, and I want a happy ending for them, soon.
"People, particularly big men carrying big rifles, don't expect lip from a scrawny thing like me. They always look a bit dazed when they get it."
About the story The Witch of Duva... it was awesome! It was basically a retelling of Hansel and Gretel, but very creppy. Guess what? The witch wasn't as bad as the real villain. Passing the pages I was more intrigued, because I did not know how it was going to end. And at the end did such a plot twist that I was shocked. I loved the story very much and it shows you how wonderful the Grisha world can be,
"I'm sorry it took me so long to see you, Alina. But I see you now."
Concluding, if you haven't read this book... What the hell are you waiting on? I don't know what I was waiting for, but after reading this book I finally comprehend that I was a fool for not reading it sooner. Read, YOU will LOVE it.
"They are orphans again, with no true home but each other and whatever life they can make together on the other side of the sea."