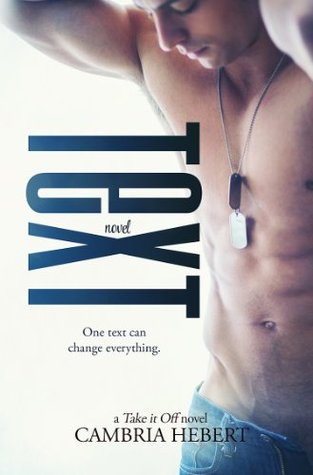 Text
(Take It Off #4)
by: Cambria Hebert
★★★★☆
One text can change everything.
Honor Calhoun never thought her life would ever be like the books she writes for a living. One morning while out for a run, she learns not all bad things are plots in novels. Some horrors can actually come true. She faces off with a persistent attacker, holds her own, but in the end is taken hostage and thrown into a hole. In the middle of the woods.
But Honor didn't go down there alone. She took her kidnapper's phone with her. With a spotty signal and a dying battery, her hope is slim.
Nathan Reed is an active duty Marine stationed at a small reserve base in Pennsylvania. All he wants is a calm and uneventful duty station where he can forget the memories of his time in a war-torn country. But a single text changes everything. Nathan becomes Honor's only hope for survival, and he has to go against the clock, push aside his past, and take on a mission for a girl he's never met.
Both of them want freedom... but they have to survive long enough to obtain it.
After, in my opinion, the biggest
fiasco
of the third book of this series, Cambria went for the kill with this book. She went from a couple stranded on a not-so-desert island to a kidnapping and rescue situation. Both situations are not what I typically like to read, so that's why neither of them are five stars. But I quite like this one way much than the book before.
As I said, this book begins with a kidnapping. Honor got kidnapped, almost raped, thrown in a hole and left there for a little party for himself later. The kidnapper did not quite realize that she stole his cellphone, so she could found help in Nathan. He knows the kidnapper, Lex, but after a few texts between Honor and Nathan, he realizes that the situation is real and he will do whatever he can to save her. How much power a text can have, right? When your life is in other hands, the only thing you can do is hope and Honor did just that.
I will not be cliché and say that the whole relationship between Honor (which is a name that I don't actually like) and Nathan is an insta-love, because even though it is, I loved how good and perfect all their scenes went. Yes, everything went way faster than I would love to really be, but I still liked every little piece of it. It went smooth, sweet and hot. Just how I like it.
Honor and Nathan are scarred characters and founding each other was the best damn part in the whole book. Those two are made for each other, so Cambria did an outstanding job making them up. I found a link between all the stand-alones of this series, guys! All of them, at some point, say the words "take it off", which is the name of the series. No matter how apart the events of all these characters happen, they will always take off something (mostly clothes). So, yay for me! I will keep reading these books... BTW, Cambria just announced that she is releasing another book in this series, it will be called Taxi. The cover will be out on April 15th and the book will be released in May this year. Read me later!