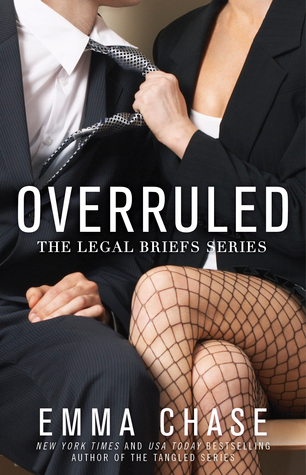 Overruled
(The Legal Briefs #1)
by: Emma Chase
★★★★½
As a DC defense attorney, Stanton Shaw keeps his head cool, his questions sharp, and his arguments irrefutable. They don't call him the Jury Charmer for nothing – with his southern drawl, disarming smile and captivating green eyes – he's a hard man to say no to. Men want to be him and women want to be thoroughly cross examined by him.
Stanton's a man with a plan. And for a while, life was going according to that plan.
Until the day he receives an invitation to the wedding of his high school sweetheart and mother of his beloved ten-year old daughter. Jenny is getting married — to someone who isn't him.
That's definitely not part of the plan.
Sofia Santos is a city raised, no-nonsense litigator who plans to become the most revered criminal defense attorney in the country. She doesn't have time for relationships or distractions.
But when Stanton, her "friend with mind-blowing benefits" begs for help, she finds herself out of her element, out of her depth, and obviously out of her mind. Because she agrees to go with him – to The-Middle-Of-Nowhere, Mississippi – to do all she can to help Stanton win back the woman he loves.
Her head tells her she's crazy...and her heart says something else entirely.
What happens when you mix a one stop-light town, two professional arguers, a homecoming queen, four big brothers, some Jimmy Dean sausage and a gun-toting Nana?
The Bourbon flows, passions rise and even the best laid plans get overruled by the desires of the heart.
I have this unhealthy obsession with Emma Chase's books. They just make me laugh to much! The Tangled series came first and I just couldn't stop laughing with those books (even though the story wasn't that great) and now this book. Like, LMAO for real.
Stanton Shaw comes from Sunshine, Mississippi, a little town where everyone knows everyone and everything that happens. When Stanton's sweetheart (Jenny) gets pregnant, everyone knows it, but no one blame them... they are in love. Stanton takes action, but Jenny tells him to follow his dreams to become a lawyer and their relationship will just happen when he is in town. Ten years later Stanton has Sophia has a fwb (which both of them are feeling it more than just fwb) and then he receives the news that his high school sweetheart is getting married and not to him. He jumps in his car, takes Sophia, and off they went to save the "love of his life".
Stanton and Sophia's relationship is a weird one. Because we actually believe, in the beginning, that they are friends with benefits. But more chapters in, we do notice changes from them. They have been in love with each other for a long while, but none of them notices. First, Stanton has in his mind that he is in love with Jenny and forever will... which is not that truth, but not that false. Second, Sophia doesn't act in her actions because she believes deep inside herself that Stanton is just a friend she fucks. Third and last, thank you Jesus for that end, but really I wanted more. But I'm certainly going to have more in the next books, so I'm okay.
The biggest cameo ever in this book is Drew! That son of a bitch is the perfect character. Even in other book series he's still the MVP. I have missed him, so seeing him was a total refresh. When you have Stanton and Drew side by side, you notice little things in common. The same charm Drew has to conquer woman, Stanton has it to conquer a Jury... such a charming men! Other common thing goes to Kate and Sophia, they kind of have the same thoughts and feelings towards their men. I even actually like Sophia more than Kate and I like that.
The story was a little fucked up, but I really laugh a lot. So if you want to laugh, read the book. Otherwise, do not read it. Anyways, read me later!