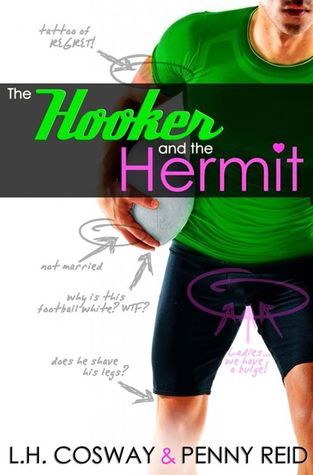 The Hooker & The Hermit
(Rugby #1)
by: LH Cosway & Penny Reid
★★★★★
New York's Finest
Blogging as *The Socialmedialite*
April 22
LADIES AND GENTS! I have an announcement!
You know that guy I featured on my blog a few months ago? The really, really hot Irish rugby player who plays the position of 'hooker' in the RLI (Rugby League International)? The one with the anger management issues, the body of a gladiator and the face of a movie star? The one with the questionable fashion choices leading me to ask whether he was the lovechild of a leprechaun and a hobbit? Ronan Fitzpatrick? Yeah, that guy.
Well, I have a confession to make…
THE HERMIT
Annie Catrel, social media expert extraordinaire at Davidson & Croft Media and clandestine celebrity blogger, can make anyone shine in the court of public opinion. She is the Socialmedialite, anonymous creator of New York's Finest and the internet's darling. Virtual reality is Annie's forte, but actual reality? Not so much.
THE HOOKER
Ronan Fitzpatrick, aka the best hooker the world of rugby has seen in decades, despises the media—social or otherwise. The press has spun a web of lies depicting him as rugby's wild and reckless bad boy. Suspended from his team, Ronan has come to Manhattan to escape the drama, lay low, fly under the radar. Only, Ronan isn't easy to overlook, and he can't escape the notice of the Socialmedialite…
THE PLAN
When Ronan is sent to Davidson & Croft Media to reshape his public image, he never expects to cross paths with shy but beautiful Annie, nor does he expect his fierce attraction to her. He couldn't be happier when her boss suggests pairing them together.
What lengths will Annie take to keep her virtual identity concealed? And what happens when the hooker discovers who the hermit really is?
After more than a year passed and just now I'm doing the review. I'm so ashamed! The worst thing is that I'm doing it just because soon I will be participation on a Blog Tour of the second book. It would be kind of awful to review the second one and not the first (it has happened, i feel super awful, but i still haven't review that first book... yet). So here I am.
First things first. The Hooker and the Hermit is not what you are thinking about, but actually it kind of is. Our hooker is Ronan Fitzpatrick, who is not an actual sexual hooker, but more like a Rugby hooker, so you see the pun. Our hermit is Annie Catrel, who is actually the definition of a hermit. He lived in the fame, but now his career is going down hill after a couple of mistakes. She lives her life inside her apartment, on a computer, where pretty much she gains a lot of cash. When her job crash with this sexy hooker, they are paired up to lift his career once again and she will have the latest news for her blog New York's Finest.
When a hermit and someone not hermit at all collide, what you think it will happen? Obviously, the hermit will stop being a hermit alone to be a hermit in company and the hooker will stop being a hooker to everyone and just become a hooker for her. The whole story is totally humorous and everything will keep you hooked (pun intended) to every single word of the book, and yes, you'll be the hermit then.
It was fun and kind of educational to read about a sport that I know almost nothing about. Rugby sounds like a sport not for me. Is too hard, brute and even bloody. Just like football, which I hate, but I love to read. I see myself reading more about Rugby in a near future. And the combination of Cosway and Reid is definitely one I want to keep reading.
The characters of this book were just how I like them. True to themselves, not changing for anything or anyone at all and finally committing to love themselves forever. A sweet happy ending, with humor, and leaving you wanting more, which THANK YOU MADAMES, we got more to read soon. Stop by my blog on April 25, for the Blog Tour on book number two. Read me later!