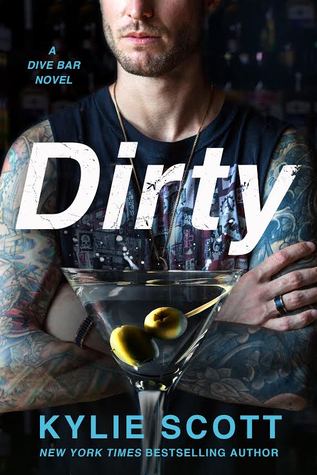 Dirty
(Dive Bar #1)
by: Kylie Scott
★★★★½
The last thing Vaughan Hewson expects to find when he returns to his childhood home is a broken hearted bride in his shower, let alone the drama and chaos that comes with her.
Lydia Green doesn't know whether to burn down the church or sit and cry in a corner. Discovering the love of your life is having an affair on your wedding day is bad enough. Finding out it's with his best man is another thing all together. She narrowly escapes tying the knot and meets Vaughan only hours later.
Vaughan is the exact opposite of the picture perfect, respected businessman she thought she'd marry. This former musician-turned-bartender is rough around the edges and unsettled. But she already tried Mr. Right and discovered he's all wrong-maybe it's time to give Mr. Right Now a chance.
After all, what's wrong with getting dirty?
I knew deep inside of me that I was going to read an spin-off series, but I never thought it was going to be an spin of an spin, because I did not recognize Vaughan until a cameo of Mal almost at the end of the book. And I never thought I was going to enjoy this book even more than the ones of
Stage Dive
. And I was left waiting for more, so
Twist
will do in the future.
Story told by Lydia Green. A woman that just received a video of her to-be-husband fucking his best man. She, literally, took off from the whole wedding, arrived to a house with an open window and cry endless tears in the tub. Vaughan Hewson never thought of coming home to an empty house... wait, there's a woman crying in this tub. And just like that Vaughan and Lydia's life entwined.
Crazy at first sight
. Both of them have serious issues behind them, and in just an hour they trust all their life with each other, crazy, right?
Lydia is hilarious. Her thoughts are all over the book and I just couldn't stop laughing in her comparisons or the way she describe everything in detail. Plus, Vaughan always follow her lead in making hilarious comebacks. I couldn't stop laughing my ass off every time.
"Babe?"
"That's not my name," I said, mouth on automatic pilot.
"Whatever. You're looking bit homicidal over there. Everything okay?"
"Yeah. Figuring out the best method for separating him from his manhood."
He winced.
"Can you blame me?"
Other characters worth mentioning as hilarious are: Nell, Joe, Andre and a little bit of Eric. Next book is about Joe, so I'm def going to enjoy it as much as I enjoyed this one. I would like to read a book of Nell with Eric more than one of Joe and a mysterious girl out of nowhere, but oh well. By the way, I think I should review the books of Stage Dive, but I think I'm very lazy for that these days. Anyways... read me later!