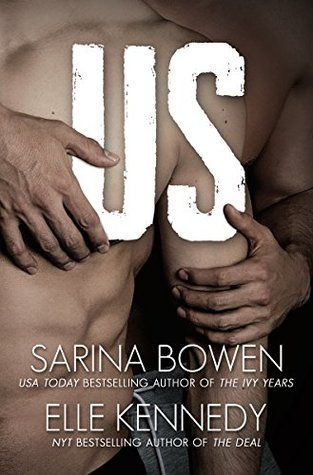 Us
(Him #2)
by: Sarina Bowen & Elle Kennedy
★★★★★
Can your favorite hockey players finish their first season together undefeated?
Five months in, NHL forward Ryan Wesley is having a record-breaking rookie season. He's living his dream of playing pro hockey and coming home every night to the man he loves—Jamie Canning, his longtime best friend turned boyfriend. There's just one problem: the most important relationship of his life is one he needs to keep hidden, or else face a media storm that will eclipse his success on the ice.
Jamie loves Wes. He really, truly does. But hiding sucks. It's not the life Jamie envisioned for himself, and the strain of keeping their secret is taking its toll. It doesn't help that his new job isn't going as smoothly as he'd hoped, but he knows he can power through it as long as he has Wes. At least apartment 10B is their retreat, where they can always be themselves.
Or can they?
When Wes's nosiest teammate moves in upstairs, the threads of their carefully woven lie begin to unravel. With the outside world determined to take its best shot at them, can Wes and Jamie develop major-league relationship skills on the fly?
Warning: contains sexual situations, a vibrating chair, long-distance sexytimes and proof that hockey players look hot in any shade of green.
my thoughts
Do you have an idea of how much I was waiting for this book? No, you don't. Ever since I heard the rumors that this was going to be real, I was so excited! I really LOVED Him, so it was kind of obvious that I was going to love this book and worst, I would want even more. Which I think we will have, because wedding AND a possible new couple.
If book number one was a total hit, this book continued the awesomeness. The last book leaves you thinking that everything was going to be ok and they had their happily every after. But this book gives you a slap on the face and tells you that life is tougher than that and sometimes things get shitty. Wes can't actually come out of the closet, because thoughts he has in his mind (becuase I really never saw the problem). Jamie fully supports Wes, but he suffers. He really want to be his boyfriend in the whole sense of the word. The worst case scenario, one of Wes's teammates is one of the neighbors now. So, they have to be careful. But I really I LOVED BLAKE. He was the best supporting character in the whole book.
You know, this book began like a bittersweet candy, then it got shitty, more in it got shittier/sad and finally arrived the happy ending I was looking for. This book break my heart and then cure it. This book made me cry and then laugh like a loon. And this book made me wish I had a Blake ALL FOR ME. That man, that man!
I loved how real, these authors were. I enjoyed their writing and I hope to keep reading of them together. I might try to read them separately, but I made no promises. Is like once you try heaven, there's nothing you can compare it to, right?