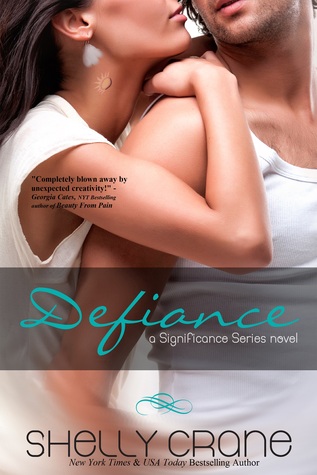 ★★★★★
(Significance #3 & #4)
by: Shelly Crane
In the third installment of the Significance series, we begin with Maggie and Caleb in the clutches of a new enemy; the Virtuoso council. Not only do they have to deal with the consequences of taking the lives of the Watsons and the council attempting to take Maggie away to keep their precious Visionary safe, but they must deal with Marla as well. All are determined to undermine, control and use Caleb and Maggie's rare gifts for their own uses, some wish to destroy them entirely. Then Maggie's father and Bish are threatened but the council forbids the presense of humans. Peter and the family fight and stand beside them every step of the way to save Maggie's father, to keep Caleb and Maggie together when the corrupted council is so set on keeping them apart and to stop Marla and whatever she has up her sleeve. Then Maggie has the shock of her life when she discovers something about her real father. It may change everything for everyone. Stay tuned as the story continues.
★★★★★
------------
In the fourth and final installment, Maggie and Caleb must tie up all the loose ends of their lives and make a way to be together completely on their own. With everything that happened with Bish and Maggie's father, she's almost reluctant to move on and move out. And now she must figure out all of this...stuff...with Haddock. But of course, nothing can stay simple for the Jacobsons. Enemies who were thought to be dissolved have decided to not go down so easily. And old flames come calling for more than just Maggie. Caleb is torn between leading his family and personal wants. Maggie is torn between Caleb and being the leader of their people. But neither will let what they need most to be pushed to the wayside. They are determined to make it all work, design a plan toward destiny, and make everything right again for themselves and their family.
And then there's a wedding...
my thoughts
Well, I thought this series couldn't become better... I was wrong. These books are definitely the peek of March and the year, for now. I got so into it, that I'm ready to read the 5th book already. These books were the perfect rollercoaster for my reading slump, but I'm afraid that when I finish them, I will have another reading slump. Ugh, it sucks.
Third and Fourth book follow very close the other two. Now that Marla will be out of the way, these two can be happy, right? WRONG. Marcus still around somewhere, seeking revenge. And the other Watsons keep their experiements too, which is what Maggie fears the most. Other than that, things keep their course. Imprints are happening left and right, which is the best part. Weddings are getting their course and so so much happiness.
I was really mad with everything that comes out of the council's mouths. Seriously, fuck them! If I was Maggie, I would be exploding things left and right until they make whatever I want. But other than that, I was really really happening of how everything end. All the couples, the love. SO SO sweet, man!
What I'm really scared now is for Ava and Seth, something really hard and weird is going to happen and I hope that my heart doesn't break in the way. These two books make my heart weep, because Rodney (you'll understand if you read them). And then laugh a lot with Bish, Kyle and the others. I don't really know where these books were, or why they jumped at me, but I'm grateful.