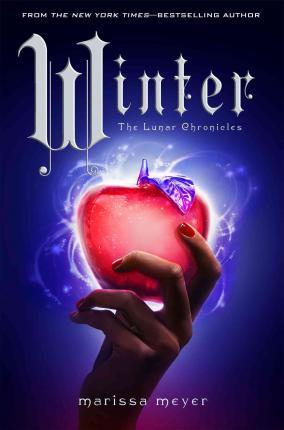 Winter
(The Lunar Chronicles #4)
by: Marissa Meyer
★★★★★
Princess Winter is admired by the Lunar people for her grace and kindness, and despite the scars that mar her face, her beauty is said to be even more breathtaking than that of her stepmother, Queen Levana.
Winter despises her stepmother, and knows Levana won't approve of her feelings for her childhood friend—the handsome palace guard, Jacin. But Winter isn't as weak as Levana believes her to be and she's been undermining her stepmother's wishes for years. Together with the cyborg mechanic, Cinder, and her allies, Winter might even have the power to launch a revolution and win a war that's been raging for far too long.
Can Cinder, Scarlet, Cress, and Winter defeat Levana and find their happily ever afters?
my thoughts
THIS IS SO FUCKING GOOD! I don't know how to write this review, but I will do it anyways. Yesterday, I was too pumped to write it and today I had to work, but I'm still don't know how to write ALL my thoughts.
"She was prettier than a bouquet of roses and crazier than a headless chicken. Fitting in was not an option."
Winter, Winter, Winter! I was waiting for you a LONG time. I mean, really long. Thank heavens that the book was long enough for all the suffering Cress left me with. I knew Winter was crazy, but never thought she was
that
crazy. But I have to admit, it suit her well. She used it in her favor. And it was lovely to see the interactions between Jacin and her. They were as cute as the other three couples. I knew this books are retelllings, but I never thought where the author was going to add the Snow White's scenes to Winter, they all fitted perfect.
"What did you bring me today? Delusional mutterings with a side of crazy?"
Coming back to the beginning... What we knew so far? Cress left are minds in knots after the end. We didn't know about Scarlet (much). We were terrified for Jacin. Our hearts were broken for Wolf. We smirked because Cinder succeed kiddnapping Kai. So on and so forth. After reading Fairest, we come to the understanding how Levana funstions and from where she came. We learn about Winter and the why she is such a loon. Among other things. But the important stuff happens in this book. The whole war is here. The time is up and Levana's time must come to an end.
"She's our lost princess. And she's coming home."
The book was LONG. I mean, I'm not complaining, but there were so many twists and turns that I almost fall from my bed. Why the author keep torturing us? Why didn't she got to the point? But anyways, it was bittersweet to read this book. I knew it was the end. I knew I wanted to read it all in a day. But stars above! It was GOOD. I'm hoping that the days come fast, because I want the next book ASAP. You know, the one that has all the stories and that has like an epilogue WITH a weeding. GIVE ME THE HAPPY ENDING DAMMIT! That's it.