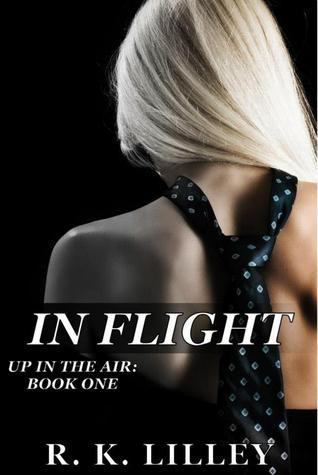 In Flight
(Up in the Air #1)
by: RK Lilley
★★★★½
When reserved flight attendant Bianca gets one look at billionaire hotel owner James Cavendish, she loses all of her hard-won composure. For a girl who can easily juggle a tray of champagne flutes at 35,000 feet in three inch heels, she finds herself shockingly weak-kneed from their first encounter. The normally unruffled Bianca can't seem to look away from his electrifying turquoise gaze. They hold a challenge, and a promise, that she finds impossible to resist, and she is a girl who is used to saying no and meaning it.
Bianca is accustomed to dealing with supermodels and movie stars in her job as a first class flight attendant, but James Cavendish puts them all to shame in the looks department. If only it were just his looks that she found so irresistible about the intimidating man, Bianca could have ignored his attentions. But what tempts her like never before is the dominant pull he seems to have over her from the moment they meet, and the promise of pleasure, and pain, that she reads in his eyes.
my thoughts
Holy cow! I went blind to this book and came out... not blind, but bind to it. I don't know what I waiting for. My best friend told, long time ago, that this series were really good. But I never thought that was going to be this good. For all the fans of Mr. Grey, this book is just for you!
You know, is hard not to make comparisons. And harder is when you have read a lot of book with the same plot. Some books surprise me, which is very good, and it is was this caused. I never thought Mr. Cavendish was going to be such a Mr. Grey and same with Bianca, being such an Anna (but with mind). I love how much Bianca stood in her ground and did not gave too much away to a stranger, which is what James Cavendish really is. I was a little dissapointed to realize that Bianca didn't research him until shit hit the fan. Like, for real? But James did have good intentions after all.
I have always had this platonic dream of becoming a flight attendant, and living it through Bianca in this book was good. Having a friend like Stephan by her side was the perfect match for this character. I think that Stephan is the real MVP in this story. He protects her very fiercely, but he is always trying to see both sides and making amends between them. I hate the character of Melissa with passion. And Carl made think so much of Taylor (from fifty shades), that I kind of miss him. That bitch of Jules should die and the housekeeper should very fired. Damn women!
At the end, I loved the book. But as always, I have issues with the end. It was so sad and so fast. So, obviously, I went directly to the next book. You'll here about more soon. *waves*