Teaser Tuesdays is a weekly bookish meme, hosted by MizB of Should Be Reading. Anyone can play along! Just do the following: grab your current read; open to a random page; share two "teaser" sentences from somewhere on that page; BE CAREFUL NOT TO INCLUDE SPOILERS! (make sure that what you share doesn't give too much away! You don't want to ruin the book for others!); and share the title & author, too, so that other people can add the book to their TBR lists if they like your teasers!
FIRST TIME DOING THIS! I love teasers, so why the hell not give a couple by month? Starting the meme this week with: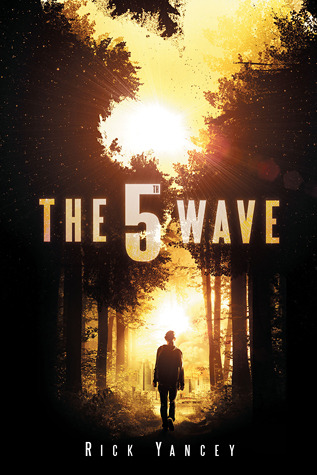 The 5th Wave
by: Rick Yancey
After the 1st wave, only darkness remains. After the 2nd, only the lucky escape. And after the 3rd, only the unlucky survive. After the 4th wave, only one rule applies: trust no one.
Now, it's the dawn of the 5th wave, and on a lonely stretch of highway, Cassie runs from Them. The beings who only look human, who roam the countryside killing anyone they see. Who have scattered Earth's last survivors. To stay alone is to stay alive, Cassie believes, until she meets Evan Walker.
Beguiling and mysterious, Evan Walker may be Cassie's only hope for rescuing her brother—or even saving herself. But Cassie must choose: between trust and despair, between defiance and surrender, between life and death. To give up or to get up.
My Teaser:
"Because if I am the last one [human on Earth], then I am humanity.And if this is humanity's last war, then I am the battlefield." (p. 101)
Let me read your teaser!