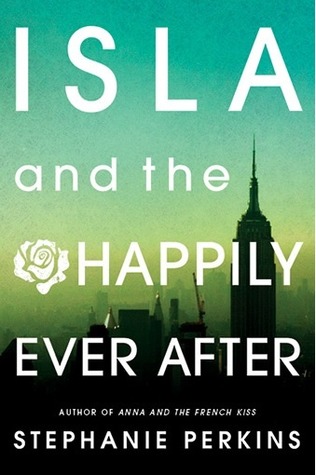 Isla & the Happily Ever After
(Anna & the French Kiss #3)
by: Stephanie Perkins
★★★★★
Love ignites in the City That Never Sleeps, but can it last?
Hopeless romantic Isla has had a crush on introspective cartoonist Josh since their first year at the School of America in Paris. And after a chance encounter in Manhattan over the summer, romance might be closer than Isla imagined. But as they begin their senior year back in France, Isla and Josh are forced to confront the challenges every young couple must face, including family drama, uncertainty about their college futures, and the very real possibility of being apart.
Featuring cameos from fan-favorites Anna, Étienne, Lola, and Cricket, this sweet and sexy story of true love—set against the stunning backdrops of New York City, Paris, and Barcelona—is a swoonworthy conclusion to Stephanie Perkins's beloved series.
my thoughts
"There's no story,' I say. 'I saw you one day, and I just knew."
LE CRY, LE CRY! It's over and I didn't want it to be, but it was SO PERFECT. Oh, fellas if you haven't read any book from Stephanie Perkins you are seriously missing a LOT. The best thing about this "trilogy" is that you can read it in whatever order you want. Obviously, if you read this story before Anna or Lola, you will read how happy they are, but knowing how they are in the future misses the point of reading how they reach that point. Please, read all the books, no matter the order. Now, back to Isla.
"Josh grins. 'Just give me your hand.'
'W-what?'
'Your hand,' he repeats. 'Give it to me.'
I extend my shaking right hand. And - in a moment that is a hundred dreams come true - Joshua Wasserstein laces his fingers through mine. A staggering shock of energy shoots straight into my veins. Straight into my heart.
'There,' he says. 'I've been waiting a long time to do that.'
Not nearly as long as I've been waiting."
So, as you can see the story is about Isla [which is pronounce like eye-la] and her all life crush Josh. If you read the past books, you know who Josh is and you can slighty remember who Isla is. So when they meet on summer before starting they senior year on SOAP, both are knocked by cupid's love and in my opion their almost felt to the floor if they weren't holding each other [metaphorical sense, people]. Their romance is PURE perfection, but when things begin to going south, can they overcome their problems with love?
"Don't be a chickenshit. Tell him how you fell.'
'What if he doesn't love me?'
'He does.'
'What if he doesn't?'
'Ugh, then who cares? You won't lose anything you haven't already lost.' She flicks a snowflake from the tip of my nose. 'For once in your life, listen to your younger sister. She's taller, and she knows better than you."
About other characters, well Isla's family is very cute for once. Her
maman
and dad are very support with her decisions and try to help her and annoy her in every sense. Her sisters are not out of normal, but dear God, Hattie was really a bitch at the beginning and middle, it was better at the end. Josh's family was other story. His mom was very calculated and always thinking about what would be good for the cameras. She only did one thing good, supporting Josh to go to Isla. His dad wasn't too much in the picture, but I see that he is a very good actor for being a senator [no surprise there, ugh?]. Isla's best friend, Kurt, was so LOVELY. I love him so. I understand that it was kind of hard for him to "lose" Isla with Josh, but it was fixed. AND we cannot forget St. Clair, Anna, Lola & Cricket! LOVE, LOVE.
"Aw, mate,' he says [St. Clair] to Josh. 'Admit it. You couldn't resist me.'
Josh relaxes into a smile. 'You're like a gorgeous little bon-bon.'
'Delicious in every way,' St. Clair says."
Oh, I cry of happiness because it was the perfect end for the series, but I cry because there is not more. Oh, but someday I will re-read them for sure. Once again, if you haven't read these... D-O I-T N-O-W! Undestood?
"The last page.' He [Josh] gestures towards the table, where a pencilled sketch is being turned into a inked brushstrokes. It's a drawing of us, in this café, in this moment.
I smile up at him.'It's beautiful. But what comes next?'
'The best part.' And he pulls me back into his arms. 'The happily ever after."