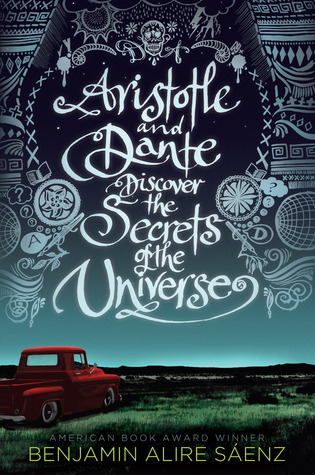 Aristotle and Dante Discover the Secrets of the Universe
by: Bejamin Alire Saénz
★★★★★
A lyrical novel about family and friendship from critically acclaimed author Benjamin Alire Sáenz.
Aristotle is an angry teen with a brother in prison. Dante is a know-it-all who has an unusual way of looking at the world. When the two meet at the swimming pool, they seem to have nothing in common. But as the loners start spending time together, they discover that they share a special friendship—the kind that changes lives and lasts a lifetime. And it is through this friendship that Ari and Dante will learn the most important truths about themselves and the kind of people they want to be.
my thoughts
"Words were different when they lived inside of you."
Well, I finished this book quite some time ago, but I remember my feelings while reading it. I couldn't stop from the time I began reading it. If I wasn't taking any classes in that period of time, I would have read it in a day. Let's see how I write this review after so this time.
"I got to thinking that poems were like people. Some people you got right off the bat. Some people you just didn't get--and never would get."
The story isn't that simple to count after you know everything that happened, but I will TRY to make sure of no spoilers. As you can see in the title, our main characters are named after some old and famous people (hahaha); Aristotle (which is the narrator; aka Ari) and Dante. They met on summer, in the pool and after that you could say they became best friends. Talking very poetic, what they want to know is to discover the secrets of the universe. Meaning maybe love, life, family and friendship.
"I bet you could sometimes find all the mysteries of the universe in someone's hand."
Ari & Dante are different characters, but they do have things in common. Ari is the tough and rough guy that can be friendly with you, but if you begin to bother him you could receive a punch. But he cares of everyone in certain ways, he would fight for you if someone hurt you, he would save you from a truck coming if you are in the middle, he would love you forever, but letting you know because it makes him look weak. Ari is so sweet. We see how he thinks or more like act without thinking and its sweet. Dante is sweet from outside and inside, but also kind of weak. Everything affects him, even the words that aren't said. He talks, talks, and talks, Ari only hears, so you could say that they fit together. Friendship born and even when Dante went away from a time, their friendship got a little stronger. The story is even more than their friendship, but through it they WILL learn the secrets of the universe.
"Another secret of the universe: Sometimes pain was like a storm that came out of nowhere. The clearest summer could end in a downpour. Could end in lightning and thunder."
I have heard people saying that they didn't like this book, but I can assure that I did love it and that I will read it when the times comes that I need to remember the so called secrets of the universe. Try to read it and discover them, you will love them. *winks*
"To be careful with people and with words was a rare and beautiful thing."