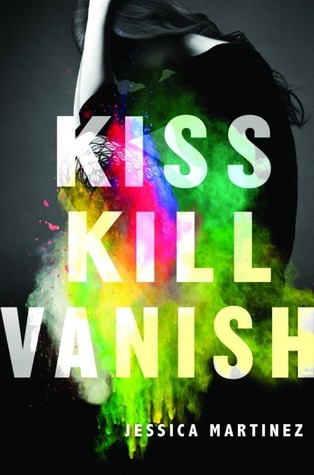 Kiss Kill Vanish
by: Jessica Martinez
3.5 of 5 stars
Valentina Cruz no longer exists.
One moment, she was wrapped in Emilio's arms, melting into his kiss. The next, she was witnessing the unthinkable: a murder in cold blood, ordered by her father and carried out by her boyfriend. When Emilio pulled the trigger, Valentina disappeared. She made a split-second decision to shed her identity and flee her life of privilege, leaving the glittering parties and sultry nightlife of Miami far behind.
She doesn't know how to explain to herself what she saw. All she knows now is that nothing she believed about her family, her heart, or Emilio's love, was real.
She can change her name and deny her past, but Valentina can't run from the truth. The lines between right and wrong, and trust and betrayal, will be blurred beyond recognition as she untangles the deceptions of the two men she once loved and races to find her own truth.
my thoughts
First, I must say that I own this ARC from long time ago and somehow I didn't pick it up. Second, I don't know if it was a good decision or not. Third and last, no matter if it was a good or bad idea, I read it and now I'm going to write my thoughts, so if you read it or not is your decision.
The shortest summary of
Kiss Kill Vanish
that I can give you is this one... She (Valentina) kisses someone (Emilio), that someone kill other person and she vanish after that. Thats the summary of the summary, because is more complicated than that. But after she witness the "love of her life" killing an "innocent" person because her dad told him to, she does vanish to other place where her fathers "fame" doesn't follow her. But when Emilio find her again, things collide, feelings resurfacing and all get complicated.
I have heard a lot of bad reviews for this book, and its sad, because is not that bad. Its not one of those books that you cannot put down or those that have an excellent action-packed or full romance story, but I like everything turned out. Valentina sometimes is a little naive, but always come back to reality. I didn't know what to think about Lucien and much less about Emilio, because for me they were foggy characters. But Marcel was my favorite, always making me laugh and all. Can I ask for one like him for me? Marcel did everything he could to make happy Valetina and it was so sweet and cute. Valentina, being naive, always thinking of Emilio and I sort of hate that. At the end everything went better than expected.
The books IS slow. The book HAS boring parts. BUT for me it was an ok read and I like it. I wouldn't read it again, for sure, but I would read something else from the author. I love how she combine some foreign languages in the book, which I knew them all. I don't know if recommend it, becuase this book is not for anyone. If you aren't in the mood, it would be really boring. Again, your choice. BTW, I LOVE the cover!