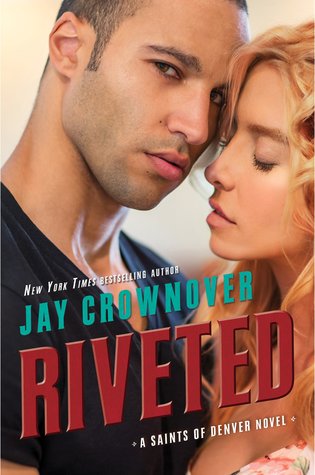 Saints of Denver #3
RIVETED
by: Jay Crownover
Release Date: February 14th, 2017
Read Date: April 10th, 2017
Format: Kindle Edition
Pages: 368
Everyone else in Dixie Carmichael's life has made falling in love look easy, and now she is ready for her own chance at some of that happily ever after. Which means she's done pining for the moody, silent former soldier who works with her at the bar that's become her home away from home. Nope. No more chasing the hot as heck thundercloud of a man and no more waiting for Mr. Right to find her; she's going hunting for him...even if she knows her heart is stuck on its stupid infatuation with Dash Churchill.
Denver has always been just a pit stop for Church on his way back to rural Mississippi. It was supposed to be simple, uneventful, but nothing could have prepared him for the bubbly, bouncy redhead with doe eyes and endless curves. Now he knows it's time to get out of Denver, fast. For a man used to living in the shadows, the idea of spending his days in the sun is nothing short of terrifying.
When Dixie and Church find themselves caught up in a homecoming overshadowed with lies and danger, Dixie realizes that while falling in love is easy, loving takes a whole lot more work…especially when Mr. Right thinks he's all wrong for you.
MY RATE
As you may noticed, I am binge-reading all the Jay Crownover books that I have not read that are in my possession. So, the time for a book of my lovely friends from Denver was up. It couldn't have been better than expected.
You know, this author make characters just for me, I swear. I fall in love with all of them, no matter from where they came from or what made them. So, Church was not the exception. He caught my eyes since way before this series started, I wanted to know what hunted him. It was such a breaking heart story that I felt for him. I saw so much death and he didn't want something pretty that could be taken away. Dixie is the perfect sunshine in his life, but he had yet to notice that. When he finally did everything exploded. The most beautiful came from his mouth and these two made a better click than any button.
I couldn't know what more to say. Church had the right words to say, that's why I love to read this author. But I have to admit that was looking for something better at the end. She does all these beautiful epilogues and I got none of that at the end of this book. The end of this book left me wanting the next one to read about Wheeler and Poppy. So, yeah I want more asap.
LAST REVIEWS