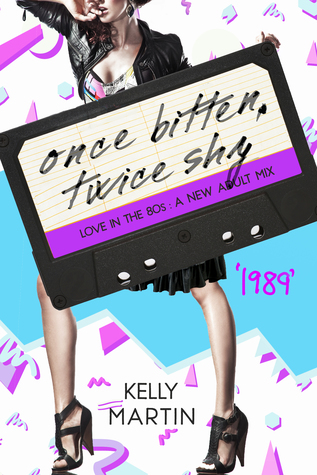 Love in the 80s #10
1989: ONCE BITTEN, TWICE SHY
by: Kelly Martin
Release Date: October 28th, 2016
Read Date: April 13th, 2017
Format: Kindle Edition
Pages: 94
Nancy Corbin makes a living screwing with the minds of Nashville's less than upstanding men.
As the owner of the underground business, Once Bitten, Nancy makes it her mission to give scorned women the justice they deserve. She lures in the man who has wronged her client, flatters him with her considerable charms, then strikes.
It's only business.
Until the ex-girlfriend of tabloid-proclaimed Romeo, Chad Harris, comes in. According to the ex, Chad is the worst Nancy has ever had the pleasure of manipulating. However, after their first encounter, Nancy isn't so sure.
As business becomes pleasure, will Nancy be able to finish the deal? Or will Chad prove to be more of a challenge than she ever realized?
MY RATE
I'm sorry, I'm so sorry to rate it so low, but I was very very mad at the end. I'm still mad. Like, what the fuck happened? What did I read? This was not the story I was looking for the end of this series. Again, I'm sorry.
The story, per sé, was not bad. This girl is the girl that takes you up in the revenge. Meaning that if you wanted to have revenge for an ex or something, she was the girl. Nancy was the "CEO" of
Once Bitten
and she paid some of her bills with that. When a girl, kind of a celebrity, comes to seek revenge for his ex, Chad Harris, who is the son of a Senator. She takes the job, because it means a
lot
of money. What she did not expect that the boy was going to be the right one for her, so she has to chose between follow the scheme or not.
You see, the story is a good one, but everything came crashing down in just one page! I couldn't believe it. I knew her scheme was going to come up and all, but he has a scheme too? The girl that was going to pay her had one too? And then, at the end... that was not an end! We are left like... what happened? It ended? I was left like there were some pages missing. That's why I am mad.
No matter how this story was, you should read the series. They are full of color and 80s stuff.
LAST REVIEWS