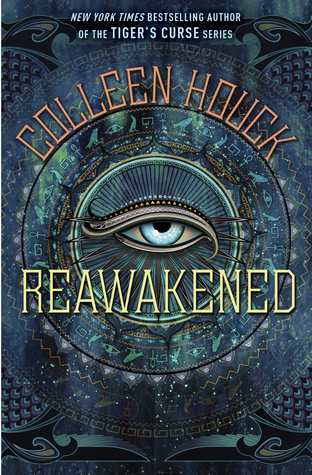 Reawakened #1
REAWAKENED
by: Colleen Houck
Release Date: August 11th, 2015
Read Date: April 29th, 2017
Format: Hardcover
Pages: 400
When seventeen-year-old Lilliana Young enters the Metropolitan Museum of Art one morning during spring break, the last thing she expects to find is a live Egyptian prince with godlike powers, who has been reawakened after a thousand years of mummification.
And she really can't imagine being chosen to aid him in an epic quest that will lead them across the globe to find his brothers and complete a grand ceremony that will save mankind.
But fate has taken hold of Lily, and she, along with her sun prince, Amon, must travel to the Valley of the Kings, raise his brothers, and stop an evil, shape-shifting god named Seth from taking over the world.
Reawakened #2
RECREATED
by: Colleen Houck
Release Date: August 2nd, 2016
Read Date: April 30th, 2017
Format: Kindle Edition
Pages: 418
Lily Young thought traveling across the globe with a reawakened sun prince was a grand adventure. Now she's about to embark on the journey of a lifetime.
When Amon and Lily part tragically, he transports himself to the Netherworld—what mortals call hell. Tormented by the loss of his one true love, he'd rather suffer in agony during Lily's mortal years than fulfill his duty to protect humanity.
Heartbroken, Lily seeks refuge on her grandmother's farm. Yet she can feel Amon's pain, and she has been having dreams—dreams of Amon continually suffering.
For before he departed, Amon gave Lily something very special, an item that connects them even though they are worlds apart. Now Lily must use this object to free him, and to free their realms from darkness and utter chaos. She will do whatever it takes.
MY RATE FOR BOTH
Ugh... I am very, very sad now. This is my curse. Why do I have always to read series that are not finished and then suffer because they let me hanging? I do it all the time, and it hurts so effing much. The end of both of these books were horrible, horrible (not in the bad way, just in the cliffhanger way). I need the next book, which I hope will be the last one, to come out now and not in August.
Colleen Houck writes fantasy with a bunch of history, full-on action and the sweetest romance... all that combine is what it makes my favorite books. When I knew this series was coming out, and they were about Egypt mythology I was ALL IN. Their myths always intrigued me and I really wanted to know more. I got my wish.
So, yes the story starts a little similar to any fantasy out there. The girl, Lily, finds herself in not in the best moment nor the place, so she gets caught in an ancient trial with one of the Sons of Egypt, Amon. This boy (not that much of a boy, actually) needs to be in Egypt, needs to find his two brothers and do a ritual before the next full moon. But, he is in New York and with not much of sustenance, which now Lily is his. Are you seeing the typical story? Normal girls gets trapped in a supernatural situation, falls in love with the supernatural boy and both of them, with the help of others, help the world and later on, this girl turns out to be very supernatural special. Yes, typical, but guess what? They are so many variables in this story that is worth reading it, I swear.
My heart is crushed with the end, yes, but doesn't mean that in the whole books had me like that. I laughed, I cried, I wanted to through the book away and I wanted to be inside of it many times. The whole story is good, perfection. I totally wholeheartedly recommend this series to anyone who needs a little escape... or better yet, to anyone really. Anyone deserves to read these books, they are that good.
My last words are simple: Read the books and you'll want more, but there will be no more until August. Sorry, not sorry. So, let me sit here and wait for it.
REAWAKENED
RECREATED