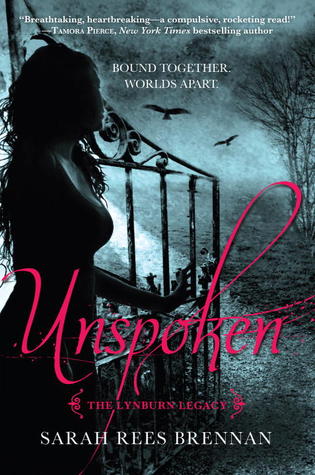 Unspoken
(The Lynburn Legacy #1)
by: Sarah Rees Brennan
★★★★½
Kami Glass loves someone she's never met . . . a boy she's talked to in her head ever since she was born. She wasn't silent about her imaginary friend during her childhood, and is thus a bit of an outsider in her sleepy English town of Sorry-in-the-Vale. Still, Kami hasn't suffered too much from not fitting in. She has a best friend, runs the school newspaper, and is only occasionally caught talking to herself. Her life is in order, just the way she likes it, despite the voice in her head.
But all that changes when the Lynburns return.
The Lynburn family has owned the spectacular and sinister manor that overlooks Sorry-in-the-Vale for centuries. The mysterious twin sisters who abandoned their ancestral home a generation ago are back, along with their teenage sons, Jared and Ash, one of whom is eerily familiar to Kami. Kami is not one to shy away from the unknown—in fact, she's determined to find answers for all the questions Sorry-in-the-Vale is suddenly posing. Who is responsible for the bloody deeds in the depths of the woods? What is her own mother hiding? And now that her imaginary friend has become a real boy, does she still love him? Does she hate him? Can she trust him?
This book... How do I begin to tell you about it? This books worked my mind. The story felt so real, that I was reminding myself over and over that this is fiction. Like everything is, but I guess that my mind didn't want to understand that. I get it, believe that I do, but that doesn't mean that I want to get it.
How many times you wished for your imaginary friend to be real? I confessed that I did and that sometimes, not I that have an imaginary friend, but I want someone always with me. Like Kami, someone who reads my mind and all. Apart from being cool, it would be a lot more easier to explain my feelings without words. It have its non-benefits of course, but its more amusing the benefits. This relationship between Kami and Jared, at the beginning was very sweet, but when they, and me of course, realize that they both are real people, it was weird. I don't understand all their feelings. If I discover that someone who I thought was imaginary now is real, I would be very excited, jump to him, hug him and maybe cry. But no, they relationship was weird. Because without they knowing, they fell in love with each other, though they keep denying it. I was very disappointed with the end. I wanted at least a half happy ending. Something like, they say "
I love you
" to each other and stay together for the next battle that its coming. I really wish them to be together.
This book is full of feels. Like I said, it worked my mind very hard, but it worked my feels too. I love all the Sorry-in-the-Vale is Sorcerer in the Vale things. I never thought that maybe Magic was into all this, but hey! It's very than vampires and all that stuff. I really really like the book, but it make me feel sad mostly. I want a happy ending! So, Sarah Rees Brennan you need to give me a happy ending in the last book of the series. Please? With cherries on top? Thank you!
Do I recommend the book? Totally, but prepare for feels!