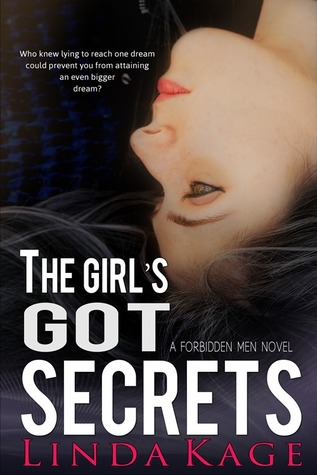 The Girl's Got Secrets
(Forbidden Men #7)
by: Linda Kage
★★★★★
Here's the same old "girl posing as a boy" story but with a rock-n-roll twist.
Remy Curran dreams of one day being in a band, except the group she wants to join refuses to hire a girl drummer. So, she auditions as a guy...and makes the cut.
Becoming "Sticks," a member of Non-Castrato, isn't quite what she dreamed it would be, though. She spends most of her time keeping up the subterfuge and learning how to walk, talk, act, and drink like a man.
But what's even harder to deal with is acting oblivious when the band's heartthrob lead singer, Asher Hart, treats her like one of the guys and not a woman. She never imagined he'd be so much more than a pretty face with a nice voice. But he's better than perfect. He's perfect for her.
When love and lies combine, Remy must keep up the act or lose everything. But who knew lying to reach one dream could prevent you from attaining an even bigger dream?
I finally got my Asher Hart story and it did not let me down. I freaking love it, like all of the Forbidden men stories. This book was definitely a stress reliever for me when I most need it. Worth the read and laughs.
Asher Hart had a rough start in life, just like Pick *wink wink* (spoiler there). When he finally sees himself ready to settle down, there's only one thing missing... the girl. Not any girl, but the one that has been in his mind all this time. The thing is that the girl is in front of him and he doesn't really know it. Remy Curran is an excellent drummer, but just because she is a chick Non-Castrato did not let her perform. So, wanting revenge, she dressed up like a man named 'Sticks', auditioned and got the job. She never thought it was going to be this hard to keep going her revenge. She never thought she was going to fall in love with Asher. Both of them never thought they were the perfect for the other one, until they were.
The whole gig of crossdressing, becoming a man who is pretending to be gay was totally hilarious. The character of Jodi made everything worth laughing. Gally wasn't that bad either. Remy acting like a man and falling every time she forgot was also hilarious. Really, the whole scenario was hilarious. I approve for anyone who wants to laugh to read this book.
I have to admit that the book was a little long for my taste because some things drag a bit, but I loved that epilogue. It compliment the one in A Perfect Ten book and I love it! I still liked that Asher didn't actually forgave her at first but then he did, because that is not cliché. I really really like the book, so go ahead and read it, dammit. Read me later!