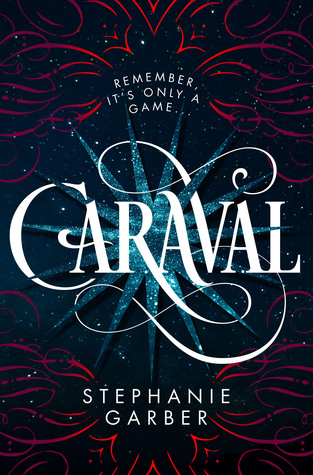 Caraval #1
CARAVAL
by: Stephanie Garber
Publication Date: January 31st, 2017
Read Date: February 10th, 2018
Genre: Fantasy, Young Adult
Format: Hardcover
Pages: 407
Remember, it's only a game…
Scarlett Dragna has never left the tiny island where she and her sister, Tella, live with their powerful, and cruel, father. Now Scarlett's father has arranged a marriage for her, and Scarlett thinks her dreams of seeing Caraval—the faraway, once-a-year performance where the audience participates in the show—are over.
But this year, Scarlett's long-dreamt-of invitation finally arrives. With the help of a mysterious sailor, Tella whisks Scarlett away to the show. Only, as soon as they arrive, Tella is kidnapped by Caraval's mastermind organizer, Legend. It turns out that this season's Caraval revolves around Tella, and whoever finds her first is the winner.
Scarlett has been told that everything that happens during Caraval is only an elaborate performance. Nevertheless, she becomes enmeshed in a game of love, heartbreak, and magic. And whether Caraval is real or not, Scarlett must find Tella before the five nights of the game are over or a dangerous domino effect of consequences will be set off, and her beloved sister will disappear forever.
Welcome, welcome to Caraval…beware of getting swept too far away.
my rate
Wow, my head is so dizzy that I can barely write all this with my thoughts together. That how good it was. Readers, do not take lightly the warning of "Remember it's only a game". The warning is serious, that's why my head is not together.
Caraval
remind me of
The Night Circus
. I love all that has to do with magic because it cannot be explain. Magic just happens, it's just a blur of the moment. Our main character, Scarlett, has always wished for magic. A spell that would sweep her off her feet away from the danger that is her father. In the beginning, we see that Scarlett always write to the master of Caraval about a chance for her sister and her to go to the game. It is not until the finally writes him telling that she doesn't wanna go because she is getting married that he finally responds with three tickers (one for her sister, one for her and the other to her fiancée).
Going to Caraval wasn't easy for Scarlett, but being there was the worse for her. Her sister, Donatella, went missing because the game this time is finding her. So she takes every help she can get, even from a stranger like Julian that she clearly sees that he is up to no good. But Scarlett forgets the warning, everything is
just a game
. You either lose or win.
Everything was magical and I loved every page of the book, but I'm still dizzy about it all. I hate lies and that's what everything did in this book. I hate unreliable narrators and that was Scarlett. She was confused and it confused me all over the place. The author did her job well, kudos for her, but my mind is begging me to say that I hate everything she put me through (which is not bad at all, still kudos for her).
Really,
Caraval
is for everyone. It has all this magic that snares anyone if you are not looking in the right places. I loved how everything came together, but I'm still missing a big chunk of the story. I want the next book ASAP, the only way I can be happy. I also have to point out that I loved how well the Spanish actually was. Not all the authors can pull it off as well as this one did, so kudos for her again. I recommend this book to anyone. Read it.