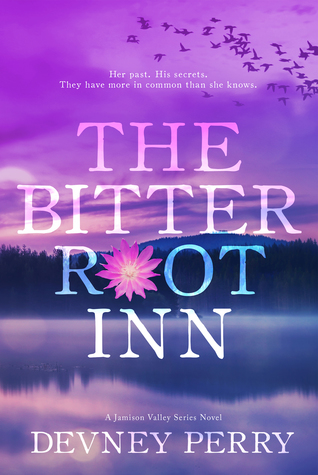 Jamison Valley #5
THE BITTERROOT INN
by: Devney Perry
Publication Date: January 16th, 2018
Read Date: February 3rd, 2018
Genre: Contemporary Romance, Adult
Format: ebook
Pages: 400
Her past. His secrets. They have more in common than she knows.
Maisy is happily content with the life she's built for herself and her young son in small-town Prescott, Montana. Her child is thriving, her business is growing, and her family is as close as they've ever been. But when a handsome stranger walks into the lobby of her motel, her simple life is swept up in a wave of affection for his gentle heart. None of those feelings can be trusted, though. She made that mistake before with another man. The man she murdered.
Hunter was a different man when he first saw Maisy Holt from afar. He took one look at her and ran in the opposite direction. But years later, he's back in Montana and unable to keep his distance. He shouldn't have tried to find her but he never was good at rejecting temptation. The promise of the good she could bring into his life is too hard to resist. Maybe if he can disguise the lies and hide the deceit, he can keep her from learning the truth. Because his only chance at a future with her is by burying his past.
my rate
Oh my God! I'm going to cry because is done. The series is done and it was so beautiful. That end was the freaking best and I cannot move on. Someone pass me the box of tissues, please.
This time around was Maisy's turn. I have been waiting for her happily ever after since book one. I knew it was going a tough thing to write about, but the author did an amazing job writing this book. Maisy Holt got the happy end she deserved, but so did her son and the cause of all this happiness was Hunter Faraday. I never thought I was going to love him as much as the other male characters, but he grew up on me... I loved him all.
He comes into town because he cannot stay away from Maisy. He is all secret and even though he got parts that are in his POV, we don't know all his secrets until shit hits the fan. We knew everything about Maisy because she is an open book, but Hunter was a different story. He loved Maisy and Coby more than anything and he didn't want to lose them, so he left things out that were kind of important. But Maisy is the best girl, gave him a second chance and everything went better than expected.
I loved how the author played everything. He tied so many knots in this book that nothing was left without an end or such. I got all happy with the epilogue and I laughed a lot too. I'm sad now because everything is over, but I'm overjoyed that it happened and I read it. I really recommend this series eyes closed. If you find it hard to read it sometimes, just push through because you'll love every single end of all these characters. I wish there was more, but there isn't and I'll be okay with that. Just read the series, don't regret it.
last reviews