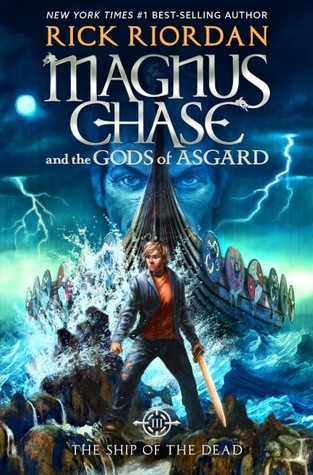 Magnus Chase and the Gods of Asgard #3
THE SHIP OF THE DEATH
by: Rick Riordan
Publication Date: October 3rd, 2017
Read Date: January 13th, 2018
Genre: Norse Mytholgy, Fantasy, Young Adult
Format: Hardcover
Pages: 423
Magnus Chase, a once-homeless teen, is a resident of the Hotel Valhalla and one of Odin's chosen warriors. As the son of Frey, the god of summer, fertility, and health, Magnus isn't naturally inclined to fighting. But he has strong and steadfast friends, including Hearthstone the elf, Blitzen the dwarf, and Samirah the Valkyrie, and together they have achieved brave deeds, such as defeating Fenris Wolf and battling giants for Thor's hammer, Mjolnir. Now Magnus and his crew must sail to the farthest borders of Jotunheim and Niflheim in pursuit of Asgard's greatest threat. Will they succeed in their perilous journey, or is Ragnarok lurking on the horizon?
my rate
You know for an author that most of the time make series of five books, having a series of three books was a very good idea. I have never read his other trilogy, but I loved this one a LOT. I would probably love more books in the series, but I am content with how is it. This is one of the reasons how why you should read this trilogy. Fantastic beginning, but the perfect end.
The last book left us with the horrible news that Loki is out of his chains, thanks to Magnus' uncle, and it was up to the crew to chain him back again. Loki is a god, a giant and has a sleek tongue, so the task is not easy, nor was the other two, but who is counting? This time around the journey is on the sea, you know that's why the title is referring to a ship. It brought me memories of Percy Jackson, for sure. And talking about him... I loved to see him again with Annabeth in this book. I cannot get out of my head that Riptide is a she, thanks to Jack.
Anyways, the sea is not Magnus friend. First, he made a goddess very mad in book one (a sea goddess). Second, he knows next to nothing about how to navigate a ship. But third, he is the grandson of a sea god, so the odds aren't that bad. And last, his crew is aka the best. It is composed of: Sam (a Valkyrie), Alex Fierro (an argr), Bliz (a dwarf), Hearth (an elf), Halfborn, TJ, Mack and Magnus himself, but don't forget Jack (the best sword ever). I'm pretty sure his odds were not that bad, but let's say that giants and gods aren't that easy to kill or persuade so the task at hand was not easy. Plus, if they completed the task, Doomsday would be here. What a lovely thing!
I swear that any mythology is full of weird things and crazy family meetings, but for now Norse will have the craziest gods I have ever met in a Rick Riordan book. I thought the Romans were crazy, but Norse got the gold. YOU WILL LOVE IT. The book is so good and you'll laugh so much at everything that your confusion of who is the mother will be gone.
This book is recommended hands down to anyone wanting a cool adventure!
past reviews