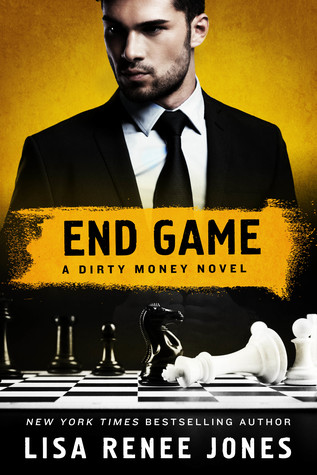 Dirty Money #4
END GAME
by: Lisa Renee Jones
Release Date: January 2nd, 2018
Read Date: December 19th, 2017
Format: Kindle Edition ARC
Pages: 266
How deep can you love?
Passion and danger collide in the explosive finale to Emily and Shane's story.
After tragedy strikes, Shane hovers on the edge of being consumed by darkness. He will fight for the woman he loves. He will destroy his enemy. He will not back down. As shocking twists, dark secrets, and explosive betrayals within the Brandon family come to the light, Shane must fight harder than ever before.
Every thread weaves a dangerous web. Emily and Derek. Brandon Senior. Maggie and her affair. The leader of the dangerous cartel who's wedged itself inside the Brandon Empire. It all comes to a head in the shattering conclusion to the Dirty Money series.
my rate
I cannot believe that after all this time of me waiting... I finished. I finished this edge of my seat series. I do not regret giving it a chance because it brought me here... to the point that I can say that I love the whole series and that I would not change a single thing.
After last book cliffhanger, I knew for sure this book was going to make me suffer and it did. I literally cried and I haven't done that with a book in a while. This book is twenty-three chapters long, divided into two parts (because two POVs). But I swear that in the first six chapters there was more action than in the whole series. I read them so fast that I didn't notice I was 35% of the book in. Then shortly after I was in 55%. This book went faster than I thought. Is so sad to let it go, but so good to read the end.
Dirty Money is a series that has lots of brain games, but Shane knows how to play his pieces very well every time. I swear he is an ace in Chess better than his father. Emily is the best sidekick for Shane, hands down. Other characters that deserve to be mentioned is Jessica. That girl deserves her own book ASAP. She's so sassy, so powerful and takes no shit from anyone, She's my spirit animal, for sure.
I love all the romance in the series overall. Because Shane and Emily are not one of those couples that when things get rough, they split in their ways instead they form a stronger bond. I admired that writing. After book two, I knew better than expect a breakup, because it was never going to come. I love that feeling. The feeling that my OTP was not going down the drain. But what I was not for sure was if they were going to survive. I had my doubts, but Ms. Jones delivered a perfect end to my favorite couple.
If you like brain games, law stuff, and a real romance, I recommend this series all the way. Everything was perfect. Of course, I would change some things that I definitely didn't like, but I'm a tough cookie and I'll move on. Read it and you will not regret it.
last reviews