"Waiting On" Wednesday is a weekly event, hosted by Breaking the Spine, that spotlights upcoming releases that we're eagerly anticipating. This week's pre-publication "can't-wait-to-read" selection is: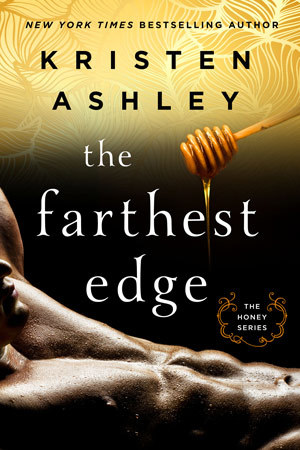 Honey #2
THE FARTHEST EDGE
by: Kristen Ashley
Release Date: June 6th, 2017
New York Times bestselling author Kristen Ashley draws readers back to the Honey Club, where every sensual boundary will be tested in search of the ultimate pleasure.
Branch doesn't exist. Living off the grid, he's looking for a way to forget his past and the guilt that plagues him. But no woman has ever been able to bring him to the edge he craves.
After a traumatizing experience of her own, Evangeline stepped away from the decadent world of the Honey Club. But when she gets Branch's offer—to play without boundaries or commitments—it's too tempting for her to refuse.
As their passion ignites, Evangeline and Branch push each other to their farthest limits, fulfilling their darkest desires while falling harder and deeper than they ever imagined. The Farthest Edge is an intoxicating erotic love story that will keep readers riveted from page one and will haunt their dreams long after the cover is closed.
What are you waiting on?