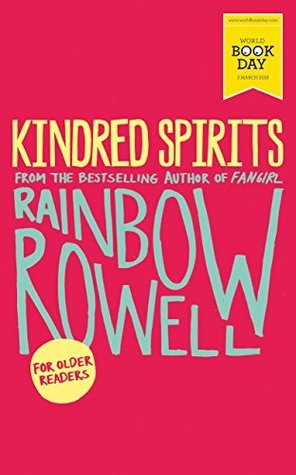 Kindred Spirits
by: Rainbow Rowell
★★★★★
'Everybody likes everything these days. The whole world is a nerd.'
'Are you mad because other people like Star Wars? Are you mad because people like me like Star Wars?'
'Maybe.'
If you broke Elena's heart, Star Wars would spill out. So when she decides to queue outside her local cinema to see the new movie, she's expecting a celebration with crowds of people who love Han, Luke and Leia just as much as she does. What she's not expecting is to be last in a line of only three people; to have to pee into a collectible Star Wars soda cup behind a dumpster or to meet that unlikely someone who just might truly understand the way she feels.
Kindred Spirits
is an engaging short story by Rainbow Rowell, author of the bestselling
Eleanor & Park, Fangirl
and
Carry On
, and is part of a handful of selected short reads specially produced for World Book Day.
my thoughts
Actually, this is a really short story, but I like it so much that I had to write my feelings towards it. I didn't like it, I Love It, like I love everything that Mrs. Rowell writes. Except,
Carry On
, but its another story.
So, there is day that appearently is huge, called World Book Day. And this year, a bunch of authors released short stories for only 1 dollar/euro, I think. I don't really know where was I, because it never reached my hears. Anyways, this short story of Rainbow Rowell was one of those. Yey!
The story goes around Elena, who is a total fan of Star Wars. So, the new movie is coming out and she has to see it. She decides to make the line to see the midnight screening, but four days before it shows. She arrives to the cinema and there are two other people. She has to fight weather, wanting to pee so much, and getting quite dissapointed that Star Wars doesn't have much a hype until the same day. But waiting in this line with Gabe and Troy is by far one of her best moments in her life. Something she will never forget.
I love the story, but I am dissapointed that it was really really short. It could have been a full novel! The novella had so many deeper parts to be explored, but the story continued and kind of left you wanting more for that little moment. I liked Elena as a narrator and I really like Gabe, not at the beginning, but you know. Troy was just as crazy as all Star Wars fans, but hilarious.
I'm telling you, a novel of all this and I would be down to read it no matter that I hate Star Wars. ;)