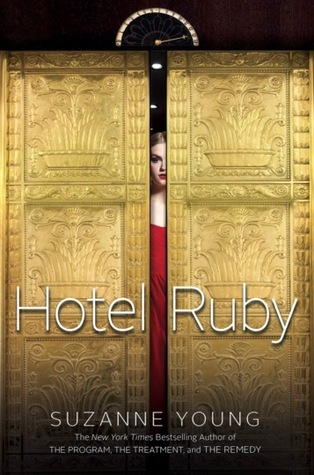 Hotel Ruby
by: Suzanne Young
★★★★★
Stay Tonight. Stay Forever.
When Audrey Casella arrives for an unplanned stay at the grand Hotel Ruby, she's grateful for the detour. Just months after their mother's death, Audrey and her brother, Daniel, are on their way to live with their grandmother, dumped on the doorstep of a DNA-matched stranger because their father is drowning in his grief.
Audrey and her family only plan to stay the night, but life in the Ruby can be intoxicating, extending their stay as it provides endless distractions—including handsome guest Elias Lange, who sends Audrey's pulse racing. However, the hotel proves to be as strange as it is beautiful. Nightly fancy affairs in the ballroom are invitation only, and Audrey seems to be the one guest who doesn't have an invite. Instead, she joins the hotel staff on the rooftop, catching whispers about the hotel's dark past.
The more Audrey learns about the new people she's met, the more her curiosity grows. She's torn in different directions—the pull of her past with its overwhelming loss, the promise of a future that holds little joy, and an in-between life in a place that is so much more than it seems…
Welcome to the Ruby.
So an ARC of this book came upon my hands just the other days, and I had to read it.
Suzanne Young
is a good author. I have read two books in her series called
The Program
, so I knew I must expect something
really
good and I did.
Hotel Ruby
was certainly the highlight of the day. I love every second of it.
I'll try to be not spoilery, but I want to let you know a little about what this book goes around. First, the cover
does
attrack the eye. It gives you the creeps of wanting to know what she is seeing in front of that door. So it you thinks the story is gonna be mysterious and belive me, it is. Second. in the title we have our location. An hotel, and not just any hotel, but
Hotel Ruby
. Which the name means class, luxury and again, mystery. Third, then we have the cliché line in the blurb
Stay Tonight. Stay Forever.
Because really, who would stay forever in a hotel?
Now that I have pick your interest... The story goes around
Audrey Casella
. After three months of her mother's death, her dad had the decision of drive her and her brother,
Daniel
, to their grandmother for the summer and leaving them there. In their path, their found
Hotel Ruby
and decided to stay the night and sleep a little. There, the cadi is overly amicable, the man in the frost desk is weird and even though they are full, they found three bedrooms, but one of them (
Audrey
's room) is in the 13th floor.
Audrey
went to her room, but she wasn't that tired so went to have a walk and then she found the party in the ballroom. Everyone is very good clothed and it is a good party. There she meets
Elias Lange
, but she is dismissed of the party because she wasn't invited. But apperantly, her father and brother can enter to that party and she wants to know why she can't. From that moment to the end of the book,
Audrey
wants to know everything, because strange things keep happening and she knows that crazy she isn't. And
Eli
is part of that puzzle, but
Kenneth
(the man from the front desk) does not approve of
Audrey
's wanderings.
Audrey
must dicover the way our of the hotel, but can she exit?
Mystery is in every page of the book, I swear. And whenever I discovered new information it was like a plot twist for me. I never thought that the book was going to end how it did. I was truly shocked and don't know if I'm happy with it or mad. But I can assure you something, when this book comes out YOU SHOULD READ IT! It is definitely a book you must buy instantly it comes out. I fully recommend it!