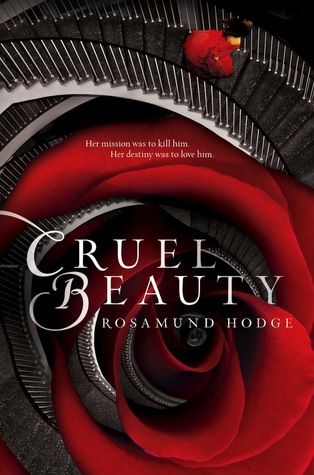 Cruel Beauty
by: Rosamund Hodge
★★★★☆
Graceling meets Beauty and the Beast in this sweeping fantasy about one girl's journey to fulfill her destiny and the monster who gets in her way-by stealing her heart.
Based on the classic fairy tale Beauty and the Beast, Cruel Beauty is a dazzling love story about our deepest desires and their power to change our destiny.
Since birth, Nyx has been betrothed to the evil ruler of her kingdom-all because of a foolish bargain struck by her father. And since birth, she has been in training to kill him.
With no choice but to fulfill her duty, Nyx resents her family for never trying to save her and hates herself for wanting to escape her fate. Still, on her seventeenth birthday, Nyx abandons everything she's ever known to marry the all-powerful, immortal Ignifex. Her plan? Seduce him, destroy his enchanted castle, and break the nine-hundred-year-old curse he put on her people.
But Ignifex is not at all what Nyx expected. The strangely charming lord beguiles her, and his castle—a shifting maze of magical rooms—enthralls her.
As Nyx searches for a way to free her homeland by uncovering Ignifex's secrets, she finds herself unwillingly drawn to him. Even if she could bring herself to love her sworn enemy, how can she refuse her duty to kill him? With time running out, Nyx must decide what is more important: the future of her kingdom, or the man she was never supposed to love.
As for retellings... I'm bad at them. Because when you read a retelling, you must know the first
telling
, right? Well, let's say that I only watched (and loved) disney version of
The Beauty and the Beast
, but I have never read (I don't know if there exists) the original version. Anyways, I'm just never good at them because I never know what its from the old story and what is new.
As for
Cruel Beauty
, I really like it, but the end was so fucked-up that, I don't know, it wasn't cut for me.
"Don't look at the shadows too long or a demon might look back."
Let's go back.
Cruel Beauty
. A retelling of the already mentioned tale.
Nyx
, the main character, was destined from birth to marry the
Gentle Lord
. His name is
Ignifex
and basically he is a demon lord. He "controls" them. He also has the "gift" of making bargains, just like
Rumpelstiltskin
, from
Once Upon a Time
or
Shrek
. But just like him, fate always turn for his good and the worst for the one who asked for the bargain.
Nyx
mission is to kill him, but once she is inside his castle and in his life, things get messy. Appearenly, he isn't easy to kill and also, he isn't the
boss
. While
Nyx
keeps discovering secret after secret, the missions becomes harder and she begins to fall in love with him. Definitly a fuck-up story, right?
"I had been waiting, all my life, for someone undeceived to love me."
First, the names are totally
werid
. Second, what the hell with this story? The author show us, first, how bad is he and then she is trying to convince us how good and lovely he is. I do like bad boys, but not demon lords. But I got to agree that he appeals to the eye. Third, outside of the characters, I freaking loved the castle. It was totally cool, scary, but cool. And last, that
fucking
ending screw up my mind
really
bad. But I still like the whole book and wouldn't change much of it.