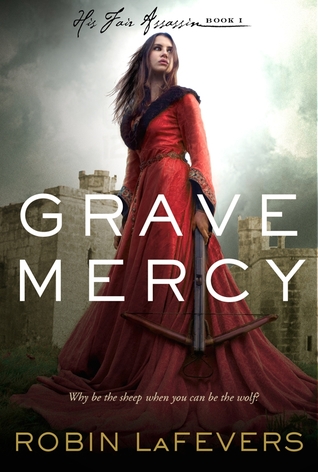 Grave Mercy
(His Fair Assasin #1)
by: Robin LaFevers
★★★½☆
Why be the sheep, when you can be the wolf?
Seventeen-year-old Ismae escapes from the brutality of an arranged marriage into the sanctuary of the convent of St. Mortain, where the sisters still serve the gods of old. Here she learns that the god of Death Himself has blessed her with dangerous gifts—and a violent destiny. If she chooses to stay at the convent, she will be trained as an assassin and serve as a handmaiden to Death. To claim her new life, she must destroy the lives of others.
Ismae's most important assignment takes her straight into the high court of Brittany—where she finds herself woefully under prepared—not only for the deadly games of intrigue and treason, but for the impossible choices she must make. For how can she deliver Death's vengeance upon a target who, against her will, has stolen her heart?
my thoughts
The book is not actually what I thought it was going to be. It hooked me only a little bit and I did not like much the end. It entrertain me a bit, but it was too slow for my likes.
"People hear and see what they expect to hear and see."
Grave Mercy
is about more than one thing. First, we have our main character,
Ismae
. A girl that survive eventhough her father did not wanted her and almost kill her. Considered herself a Death's maiden, witch such gifts of being Death's daughter. Second, we have all this covent of nuns that follow orders of
St. Mortain
(the god of death) and teaches the Death's maidens to kill in different ways. They teach
Ismae
to kill and give her missions. Third, when
Ismae
missions conflits with
Gavriel Duval
plans, their worlds clash.
Gavriel
wants the best for the duchess, but
Ismae
missions is to see if this is true. Fourth, their country is the line of war, there is a traitor and
Ismae
must find him and kill him. Last, there is a battle in the whole book between killing vs. misericorde, who wins?
"When one consorts with assassins, one must expect to dance along the edge of a knife once or twice."
I like the lingo of the book, because well is very royal. But it was hard for me to keep track of what they were saying. I do NOT like politics so the tidy-bits of their war problem did not interested me. I did not like how the characters progress, such as
Isabelou
,
Annith
or
Sybella
. They did not appeared much and when they did, they were always different. I hated that
Beast
and
De Lornay
died, because I really like them. I loved that the main character was a totally kick-ass and that she did not need any help to succeed in her plans. And I dislike that the book finished with me wanting to know what happens next and I'm not sure if I should read the next books. Maybe one day,
maybe
.
"... while I am Death's daughter and walk in His dark shadow, surely the darkness can give way to light sometimes."
PS, I
LOVE
that cover!