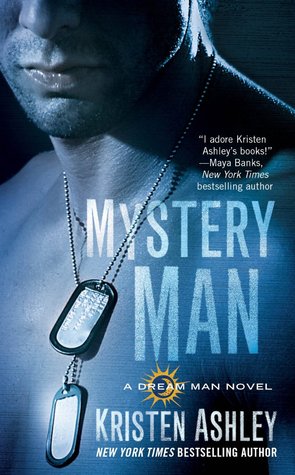 Mystery Man
(Dream Man #1)
by: Kristen Ashley
★★★★★
Night time is the right time...
Gwendolyn Kidd has met the man of her dreams. He's hot, he's sexy, and what started as a no-names-exchanged night of passion has blossomed into a year and a half-long pleasure fest. Sure, it's a little strange that he only appears in her bed at night, but Gwen is so sure he's the one, she just can't turn him away...
Hawk Delgado knows more about Gwen than she could ever imagine. She's gorgeous, headstrong, and skittish about relationships. But Hawk is facing his own demons, demons that keep him from connecting with anyone. Yet when Gwen is drawn into Denver's lethal underground scene, Hawk's protective nature comes out full force. The problem is, when Gwen gets a dose of Hawk's Alpha attitude in the daylight, she's not so sure he's the one anymore....
SQUEEE...! This is my first Kristen Ashley book and certainly I began with the right foot. I love every second of it. I began in the morning and I carried around my iPad ALL DAY until I finished it just minutes ago. It was a huge book for me, because it happened so many things, but I cannot regret a thing of it.
"No wonder. Puerto Rican, Italian and Cuban –the perfect ingredients for a hot, bossy, badass cocktail."
The story goes around Cabe "Hack" Delgado (which I love that he is half-Puertorican, because I'm Puertorican) and Gwendolyn "Gwen" Kidd. Hawk is Gwen's mistery man, the ones that she have the best ever every times he comes around, until he isn't anymore because truth came out. Gwen's sister is in deep shit and basically the only one that can help Gwen with it is Hawk. But there are so many secrets that everything is fated to be shit, in my opinion. I do not know how to explain you this book without let you know everything, so let's keep it simple. Guy knows everything about Chick, which obviously she doesn't know even his name. Guy is jealous, protective, all commando type and Chick's man. Chick had an ugly past relationship and doesn't want to be so inside Guy's man. Secrets revealed, Chick fucked up and Guy wants her, so they end happily ever after. Got that? If you don't, read the damn book. Jezz!
"Our relationship wasn't easy. It wasn't mellow. It wasn't comfortable and sedate. He was too bossy and I was too much of a smartass. We bantered and sometimes we fought. But I'd learned I was completely unable to endure Hawk being mad at me and then I'd noticed that Hawk felt the same. No grudges were ever held. We created sparks but those sparks never caught the kind of fire that could do damage. Instead, we got over it and moved on."
So, thanks that I do not have the greatest summary skills I cannot tell you what it went down, but I do can tell you how much I like it. I didn't like it, I love it. I swear that if all of Kristen Ashley books are like this, then I'm sure I will read them all this summer and possibly between this month and the next one. I haven't read such a good book like this in months! I needed this and certainly, I will continue. So, beware, next Dream Man guys, I'm coming for you.
"Then he walked in, the Great Mystery Man, now known as Cabe "Hawk" Delgado.I'd fallen in love with him at first sight. No joke. He was hot but it wasn't lust. It was love. Okay, it was part lust but it was mostly love."
And you, reader who reads me, if you haven't read this book, you are missing a lot. Peace out!