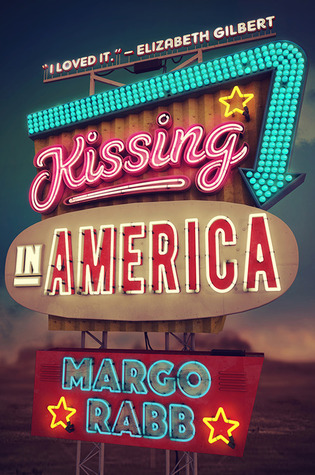 Kissing in America
by: Margo Rabb
★★★☆☆
In the two years since her father died, sixteen-year-old Eva has found comfort in reading romance novels—118 of them, to be exact—to dull the pain of her loss that's still so present. Her romantic fantasies become a reality when she meets Will, who seems to truly understand Eva's grief. Unfortunately, after Eva falls head-over-heels for him, he picks up and moves to California without any warning. Not wanting to lose the only person who has been able to pull her out of sadness—and, perhaps, her shot at real love—Eva and her best friend, Annie, concoct a plan to travel to the west coast to see Will again. As they road trip across America, Eva and Annie confront the complex truth about love.
my thoughts
I guess that I wasn't much into this book to really appreaciate or maybe it wasn't the book for me. But I read it, I felt and made me feel, so it means that will stay with me. Sometimes books do that to me, even though they aren't for me, they always tell me something. This one told me to take a leap.
Eva is a romance freak. After her father's death, she have read 118 romance books (going from cowboys, kings, jungle guys and so on). But she also like to read anything else, but she likes to write more so. Even though she haven't write after her father died. Her best friend, Annie, is the science freak and join together they actually do the Smartest Girl in America. Which is a reality contest in California that if you win, well there's a lot of money involved, scholarships and all. Eva has a crush since first day in Will and after some time he really notice her. But life comes a rips him away to California. So Eva and Annie, enter the contest and they must travel from New York to California in bus, because Eva is afraid of flying (because her dad died in one). Its a long journey, not only meaning the road, but in Eva's life is a really long damn journey.
"Love is never easy or guaranteed. Real love is a leap, you know. As you get older, you learn how hard it is, how hard everything is, how we never know if there's any ground beneath our feet, or if we'll be hurt or heartbroken. But we leap anyway. You have to take that leap."
I liked the characters, really. I liked Lourdes, Trent and even a little bit of Aunt Gonorrhea (how Eva called her). Seriously, I did not like Eva's mind much. She was wreck in the head after her father died. Her mother did not acted like she was supposed to and did not knew her error until the end, which pissed me off. Moving on is hard and grief kills, but it cannot be done alone. Help must be asked and it will be received. That is what Eva never understood until she was in front of reality.
She finally understood that making the trip was to help herself, to make a bigger bond with her best friend and to make understand to her mom that both of them had been wrong in how they acted. It was a good book about bonding and finding out true self. It wasn't a romance, which it kind of dissapoint me, but it taught me to take the leap, no matter what.
"I took the leap and I was flying."