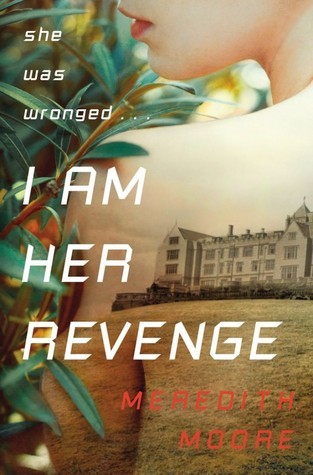 I Am Her Revenge
by: Meredith Moore
★★★½
☆
She can be anyone you want her to be.
Vivian was raised with one purpose in life: to exact revenge on behalf of her mother. Manipulative and cruel, Mother has deprived Vivian not only of a childhood, but of an original identity. With an endless arsenal of enticing personalities at her disposal, Vivian is a veritable weapon of deception.
And she can destroy anyone.
When it's time to strike, she enrolls in a boarding school on the English moors, where she will zero in on her target: sweet and innocent Ben, the son of the man who broke Mother's heart twenty years ago.
Anyone… except for the woman who created her.
With every secret she uncovers, Vivian comes one step closer to learning who she really is. But the more she learns about herself, the more dangerous this cat and mouse game becomes. Because Mother will stop at nothing to make sure the truth dies with her.
my thoughts
Now, this book was definitely in my TBR list from day one. I mean, I'd been waiting for the right moment and why not summer when I got nothing more important to do. I really thought this book was going to be the bomb, it had its bombs because plot twist everywhere, but it wasn't as I expected.
Vivian was created to be a weapon. A weapon to be used as revenge for what they have done to her mother in the past. She was told that her mother fell in love with someone and that someone broke her heart and stomp on it, so now Vivian must avenge that with his son, Ben. Vivian grew up without love, being taught that love was weakness and it manipulates you. After being homeschooled for a long time, there was a spot in the same boarding school that Ben was. The time arrived and everything was set in motion, until Vivian gets knock down with the past. Authur is watching her, making her doubt about the whole plan, and making remember past love that Vivian didn't really need in the middle of the revenge mission.
She was an interesting character with doubts about everything, even herself. She always followed instructions, and when she didn't consequences came, withougha doubt. So she always thought twice before not following. But when Authur appears and make her doubt, plus the unanswered questions she make to her mother... eveything was coming appart. She wanted the truth and it was inside the school. Finding secrets under secrets until the whole truth was out. Vivian was now capable of love, but she didn't know how. I knew that deep inside of her she always knew, but the Morther never let those things surface.
Every time a secret was discovered, it was a plot twist you didn't saw coming. I didn't like much the characters, because they never told me much, even Vivian. You could actually read at least once or twice every chapter, she saying that it would Mother want. Damn, I hated the bitch. I liked Ben, but it was more pity because he was played and even though Vivian was extremly sorry, it was sad. I liked that finally Vivian was going to be happy, but I hated that there wasn't any kind of epilogue. That's it.