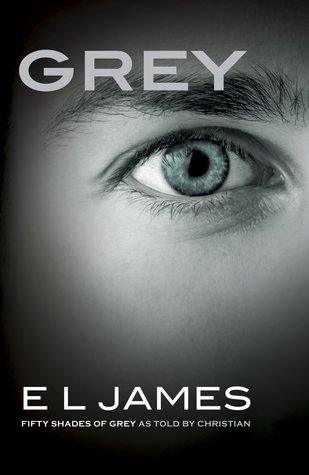 Grey
(Fifty Shades #4)
*more like #1.5*
by: EL James
★★★★☆
Christian Grey exercises control in all things; his world is neat, disciplined, and utterly empty—until the day that Anastasia Steele falls into his office, in a tangle of shapely limbs and tumbling brown hair. He tries to forget her, but instead is swept up in a storm of emotion he cannot comprehend and cannot resist. Unlike any woman he has known before, shy, unworldly Ana seems to see right through him—past the business prodigy and the penthouse lifestyle to Christian's cold, wounded heart.
Will being with Ana dispel the horrors of his childhood that haunt Christian every night? Or will his dark sexual desires, his compulsion to control, and the self-loathing that fills his soul drive this girl away and destroy the fragile hope she offers him?
okay... I must admitt that I did NOT want to read this book when the news of coming out came up in the net. But somehow this book came to my hands and I really couldn't pass the opportunity up. I read it all and I need to admitt that it wasn't that bad, but not that good. It was ok.
As you may know, this book is
Fifty Shades of Grey
, but in
Christian Grey's
point of view. I really wasn't a fan of
Anastasia's
, but now that I know his mind, I prefer his. We have so much insight of his mind, his business, his family and everything else. I begins just where
Fifty Shades of Grey
does and it ends a little bit in the beginning of
Fifty Shades Darker
. I really liked his mind, but its sad to see how she actually felt and how bad he thought of himself.
Of course, I hate to re-read some scenes, but I loved re-reading their emails, the comebacks and obviously the sexy parts. But the soft sweet side of
Christian's
continue to amaze me everytime I read it in any book. He is just sugar, but his fifty shades of fuck up doesn't let him (the real him) surface.
I'm afraid that the author will release the two other more books (
Fifty Shades of Darker
&
Fifty Shades Freed
) from his pov. And I'm even more afraid that I will read them as soon as it came to my hands. I'm sure that they will be good and addictive as it was this book. I'm not sayint that this author is the best or the books are the best or anything, I'm just saying that its good for me reading them and well, books are to pass time, so they made their work.
But if more books come out, I hope to read more scenes I haven't read before. I loved the epilogue in the last book, so I hope for more of that. I want insights of him in the wedding, the honeymoon, the baby and
Ana's
kidnapping. Hell, I want the whole package and something tells me that I will see them soon.
If you read the
Fifty Shades
trilogy, I'm sure you wouldn't want to miss this (if you liked the books). If you didn't like the books, dismiss this whole review and continue your life. Have a nice evening!