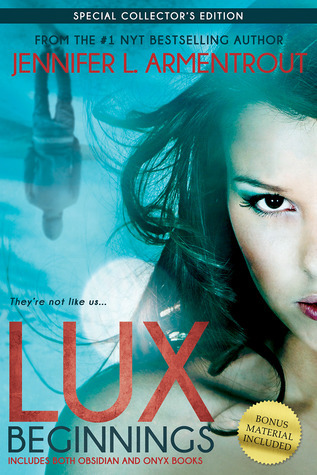 LUX SERIES
by: Jennifer L. Aremtrout
Obsidian
There's an alien next door. And with his looming height and eerie green eyes, he's hot…until he opens his mouth. He's infuriating. Arrogant. Stab-worthy. But when a stranger attacks me and Daemon literally freezes time with a wave of his hand, he marks me. Turns out he has a galaxy of enemies wanting to steal his abilities and the only way I'm getting out of this alive is by sticking close to him until my alien mojo fades. If I don't kill him first, that is.
Onyx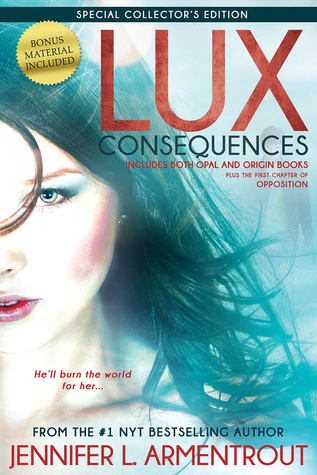 Daemon's determined to prove what he feels for me is more than a product of our bizarro connection. So I've sworn him off, even though he's running more hot than cold these days. But we've got bigger problems. I've seen someone who shouldn't be alive. And I have to tell Daemon, even though I know he's never going to stop searching until he gets the truth. What happened to his brother? Who betrayed him? And what does the DOD want from them—from me?
Opal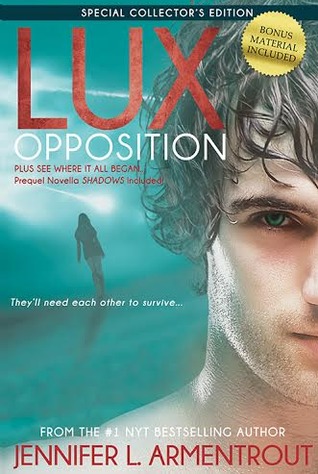 After everything, I'm no longer the same Katy. I'm different... And I'm not sure what that will mean in the end. When each step we take in discovering the truth puts us in the path of the secret organization responsible for torturing and testing hybrids, the more I realize there is no end to what I'm capable of. The death of someone close still lingers, help comes from the most unlikely source, and friends will become the deadliest of enemies, but we won't turn back. Even if the outcome will shatter our worlds forever.
Together we're stronger... and they know it.
Origin
After the successful but disastrous raid on Mount Weather, he's facing the impossible. Katy is gone. Taken. Everything becomes about finding her. Taking out anyone who stands in his way? Done. Burning down the whole world to save her? Gladly. Exposing his alien race to the world? With pleasure.
Surrounded by enemies, the only way she can come out of this is to adapt. After all, there are sides of Daedalus that don't seem entirely crazy, but the group's goals are frightening and the truths they speak even more disturbing. Who are the real bad guys? Daedalus? Mankind? Or the Luxen? But the most dangerous foe has been there all along, and when the truths are exposed and the lies come crumbling down, which side will Daemon and Katy be standing on?
Opposition
Katy knows the world changed the night the Luxen came.
She can't believe Daemon welcomed his race or stood by as his kind threatened to obliterate every last human and hybrid on Earth. But the lines between good and bad have blurred, and love has become an emotion that could destroy her—could destroy them all.
Daemon will do anything to save those he loves, even if it means betrayal.
They must team with an unlikely enemy if there is any chance of surviving the invasion. But when it quickly becomes impossible to tell friend from foe, and the world is crumbling around them, they may lose everything— even what they cherish most—to ensure the survival of their friends…and mankind.
War has come to Earth.
And no matter the outcome, the future will never be the same for those left standing.
This is NOT a review that include my opinion of all the books of the series, but it does includes most of them. When I read the first four books, I just wrote one review of the first book and didn't do the others. So, now, to not spoil anything from any book because I don't remember from which book are the parts in my mind, I will say what I thought of the series and obviously the last book, which will be the most I will be talking about. Beware, THIS review may contain spoilers of all those books, even the last one, so if you haven't read the whole series, read by own risk.
my thoughts
As you may be wondering, I just finished
Opposition
and I thought the why I haven't made any reviews of the books (except the first one, duh). So not to put things (scenes, lines, characters) where they aren't suppose to be (meaning reviews), I decide just to vent all the things I have inside me of this series. This will be mostly of the last book, because will be the one I remember most.
Finishing the series gave me the sour taste I have every time I finish a series I really like and loved, so after a long and fantistic trip like these books I must say that I truly love them and they deserve to be everyone's favorite. The author, as in this unknown person that we, readers, consider a friend, began with a rough started after I read the first book her
Covenant
series (reasons I will not explain here), but I gave those books I try and I fell in love with them forever, so why not keep reading other of her works. Right next was this series. I remember having the books in my TBR for a long time and reading everywhere of how good they were and how much everyone should read them because the characters, the story, Daemon and well, just Daemon. So, yes, I read the first book in a fly and then the next one and so on, until I became one of those person who must wait for the other book in the series to be release because I wanted to know more, duh. Opposition came out and it was my chance to pick the series up and end them, but I couldn't, even when my copy of the book came, I couldn't pick it up. I didn't want to finish this journey and when I did, I just have this sour taste in my mouth that I want gone,
I like that the main chracters, Kat and Daemon, didn't became a couple in the first book. Not because I didn't want them together, because I obviously did, but because it meant that the series wasn't like the others. They did fell in love in the first book, not that they tell it to each other, but we knew. The second book started they still "hating" their guts, but inside their blood ran hotter than hell. I felt how their connection, their relationship and their love became from nothing to everything that they need to survive in the whole series. We clearly to what extends Daemon can go to save Kat in the last books, same back at Kat doing things for Daemon. I loved that after the third book, the point of view change. So, now in the fourth and fifth book Daemon is telling the story too and can give us insights of what he thinks.
Talking about characters... I had a love and hate relationship with Ashley and the Thompson brothers, but I really missed them in the last book. I still don't know why they have to die, it was like salt in the cut for me. I HATED that Kat's mom was dead and we even knew it until she was gonner. Kat didn't said goodbye, no "I love you mom" moment or even an epic scene of the mom saving his daughter and her dying instead (which would be a cliché, but I would have be happy with it). She was just gone. Same with Ashley, Adam and the other Thompson brother which I forgot his name. Ashley was a bitch, so the author made me like it and when I was going to love her, BAM WAM, she dies. Seriously, authors, stop making me like a character so you can kill it and make me suffer. Other interesting characters are Dee, Archer, Luc... AND Hunter & Serena! If you haven't read
Obsession
, an
adult
Arum novel, you wouldn't understand my happiness when I saw them in the last book and then remember seeing them in book number four. They are obviously the perfect Arum/Human couple that I had ever seen and the only one I saw. The other couple I did love from the moment they put their eyes in each other is Archer and Dee. I mean you could see it from very far that those two fit like a globe.
THE END. That freaking end left me wanting for more. Like I wanted Daemon and Kat babies around, but no. I wanted so much to see, but she (the author) didn't let me see it. At the end of the day, this series was the best and I wouldn't mind diving into them at some other point in my life. Guess what? YOU SHOULD READ THEM.