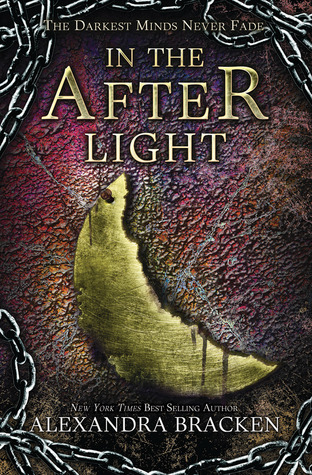 In the Afterlight
(The Darkest Minds #3)
by: Alexandra Bracken
★★★★★
Ruby can't look back. Fractured by an unbearable loss, she and the kids who survived the government's attack on Los Angeles travel north to regroup. With them is a prisoner: Clancy Gray, son of the president, and one of the few people Ruby has encountered with abilities like hers. Only Ruby has any power over him, and just one slip could lead to Clancy wreaking havoc on their minds.
They are armed only with a volatile secret: proof of a government conspiracy to cover up the real cause of IAAN, the disease that has killed most of America's children and left Ruby and others like her with powers the government will kill to keep contained. But internal strife may destroy their only chance to free the "rehabilitation camps" housing thousands of other Psi kids.
Meanwhile, reunited with Liam, the boy she would-and did-sacrifice everything for to keep alive, Ruby must face the painful repercussions of having tampered with his memories of her. She turns to Cole, his older brother, to provide the intense training she knows she will need to take down Gray and the government. But Cole has demons of his own, and one fatal mistake may be the spark that sets the world on fire.
my thoughts
Jesus H. Christ! This book had me bitting my nails and I ruined two in just the last 7 chapters. Ugh. I don't even know how to start this review... I guess by the beginning, but where's that? At the very start, I didn't know what to think about the book. I was totally lost and I couldn't connect much, but then my mind open and began to remember and click everything until I couldn't stop reading and then BOOM! book finished.
"They'd never fade, not even the afterlight of all of this."
As you may (or may not know) the titles of this trilogy connect,
The Darkest Minds Never Fade In The Afterlight
. This time around Ruby and her friends must find that afterlight, which can represent various things, from freedom to happiness to just keep living. The fight will be hard, lives will be lost (some already are), but will they find their happy ending? I'm not sure how I thought this book would end, but something like how it did I loved and I couldn't change a bit. LIE DETECTOR. Of course I would change some things, like people dying and some tweaking on dialogues, not much right?
"The you that you were then, who you are now, who you'll be," he began quietly, as if sensing my thoughts, "I love you. With my whole heart. My whole life, however long I'm lucky enough to get, nothing will change for me."
I will NOT say something that you didn't read in the past books, so no spoilers. I love Ruby and Liam's relationship. It was hard to read them fighting or avoiding each other, but every time they "came back together" were the sweetest moments in the book, I swear. I want a Liam all to myself, for real. There is another relationship (which I will not say names, but it was slightly told on Never Fade) that I loved and when I read that they were together I yelled "I knew it!" in front of my grandmother and scared the hell out of her. Their activity (how they react to each other) was so funny even at the end. Other thing is the friendships, they become so strong in this book that you will not have an idea of how much. I love how they become more and more linked even when they have differences.
"Ruby, what does the future look like?" Nico asked. "I can't picture it. I try all the time, but I can't imagine it. Jude said it looked like an open road just after a rainstorm." "I see it in colors," I said. "A deep blue, fading into golds and reds-like fire on a horizon. Afterlight. It's a sky that wants you to guess if the sun is about to rise or set." Nico shook his head. "I think I like Jude's better." "Me too," I said softly. "Me too."
I want to congratulate the author of these books for making them and by ending them so well. I'm happy that I picked them up. I'm happy that I read them. I'm happy that I love them. When this book wasn't out, I was scared as hell that it would end up like the Divergent trilogy, but it didn't and for that I'm happy too. This book didn't made so much damage as I expect, it did make damage because of some people dying, but otherwise I'm happy. After telling some of the reasons why this book (this series) made me happy, what I need to say at least is READ IT, DAMN IT!