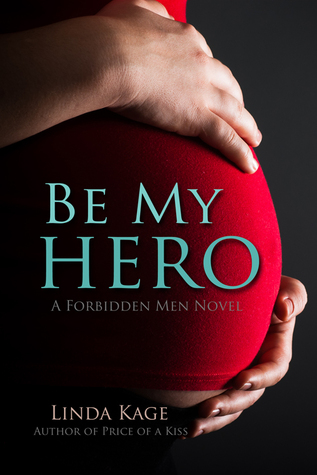 Be My Hero (Forbidden Men #3)
by: Linda Kage
★★★★★
Once upon a time, there was this pampered rich girl who was kind of full of herself. She really only cared about appearances and hiding all her dark, ugly secrets under the guise of an opinionated snob. But then Eva Mercer got pregnant, shot by a psycho, and kicked out of the only home she knew. Now she's broke, unemployed, and has to start anew with a newborn to raise. But how?
On the other side of town, sexy, tattooed orphan, Patrick Ryan, can't get a break. He's out on parole for defending the last damsel in distress while trying to help her support her child, but all he wants is to find his one true love. He knows this woman by scent, smile, and laugh, but he's never actually met her. He doesn't even know her name. He just knows she's the key to fixing everything.
One kind of hero can save you from physical harm. Another can rescue you from a different kind of doom. To reach their dreams, Eva and Pick can save each other. But first, they must open their hearts and learn how to trust.
my thoughts
Call me weird or anything you want, but something (I don't know what) told me that I would love and devour this book. I didn't read the first two books or even knew what it was all about. But I began and I couldn't stop until I finished. I don't know what draw my attention in, but the reading the prologues (there were two) drown me in very fast and I KNOW that you will feel the same.
"I think I'm going to like you, Pick Ryan."
The story is simple, as the blur says. Pick (which is a nickname, duh) is a total worthy man, but that had some rough times. But catching a glimpse of his happy future thanks to a crazy witch gave him hope for reaching that and his Tinker Bell. Now, Eva (aka Tinker Bell), has always been the bitch but changed after knowing she was pregnant. Went away searching for a better future, living with her cousin (Reese) and her boyfriend (Mason), she found her hero, Pick. Can they became what he saw or will everything go down because it was a dream?
He caught my hip, steadying me. "This'll change everything," he broke away from my mouth to say. "Once I'm inside you, you're mine, I'm yours, and we are together. There will be no friendship and mild dating. It's going to be all or nothing."
I gazed up into his eyes. "Then make me your all."
His eyes heated. "You always were."
I swear that they belong together from the very start, just like the crazy witch said. They are soulmates. I love every scene of the book, the action and the END. Fuck. That end I did love and those are the kind I love must. I totally recommend this book, because other than being sweet and peachy, is totally funny, hot and action packed. Give it a try.
"You don't even know what your mere presence does to me. You're my sanity."