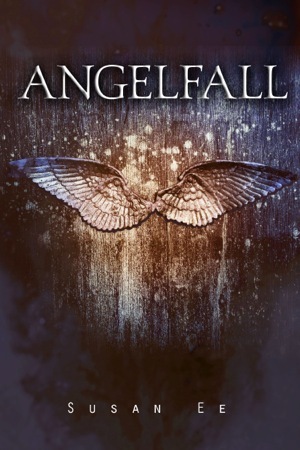 Angelfall
(Penryn & the End of the Days #1)
by: Susan Ee
4.5 stars
It's been six weeks since angels of the apocalypse descended to demolish the modern world. Street gangs rule the day while fear and superstition rule the night. When warrior angels fly away with a helpless little girl, her seventeen-year-old sister Penryn will do anything to get her back.
Anything, including making a deal with an enemy angel.
Raffe is a warrior who lies broken and wingless on the street. After eons of fighting his own battles, he finds himself being rescued from a desperate situation by a half-starved teenage girl.
Traveling through a dark and twisted Northern California, they have only each other to rely on for survival. Together, they journey toward the angels' stronghold in San Francisco where she'll risk everything to rescue her sister and he'll put himself at the mercy of his greatest enemies for the chance to be made whole again.
my thoughts
"I don't even know how to write this review. I got so many confused feelings about this book."
That was my thought exactly in February 17 this year and
almost
a year later, I'm thinking the same. But let's see if I can take this review down for good.
"A little weird? That was freakin' Bizarroville." He pauses and looks back at me.
"Are you speaking English?"
What can I really tell you that I do remember like it was yesterday was that I wanted more of this book and while reading this book (and the next one), I heard one song over and over on replay until I finished the books and right at this moment I cannot hear that song because I cannot bare the feelings (that I don't quite remember) from these books. The song
here
, the lyrics
here
. Do NOT ask me why did I but both together, at that time it made sense to me.
"Why were the other angels attacking you?" "It's impolite to ask the victim of violence what they did to be attacked."
Making my mind go back... The story goes around Penryn living in a world that was destroyed by awful, but beautiful creatures, the angels. It lets you wondering if the apocalypse occurred. So, Penryn is in charge of her little sister which in an invalid (cannot walk) and her "insane" mother. While moving to one place to other, she finds herself in a scene that she didn't want to be in. She sees a fight between some angels, talking about some none sense that she didn't care... until they notice her and her family. Chaos broke and some angels (the bad ones) took her sister and she was left with a wounded angel (almost dead) and with her mother no where to be seen... so basically alone. She drags the angel, because she will try to find her sister with his help. But will he help? Will she trust him to help her? Will she find her sister before is too late?
"I never kid about my warrior demigod status."
"Oh. My. God." I lower my voice, having forgotten to whisper. "You are nothing but a bird with an attitude. Okay, so you have a few muscles, I'll grant you that. But you know, a bird is nothing but a barely evolved lizard. That's what you are."
The angel name was Raffe, something you will learn after a little while. You will know that those bad angels cut his wings off and he needs to put them back on with surgery. You will know his sword, which by some miracle Penryn can carry it, because its not suppose to. You will know everything Penryn can do save her sister. You will know about all the history between angels and Daughters of the Man. You will love this story more than you imagine. You will want more and you will cry for it. You will beg for more and even mercy for the characters, because you will not want anything more than their happiness.
"It is not the gentle kiss of a couple on a first date, nor is it the kiss of a man driven by simple lust. He kisses me with the desperation of a dying man who believes the magic of eternal life is in this kiss."
Did I convince you to read this book? I hope so, because I bet you will love it and you will return to me saying how much you hate me for making you read this book and love it so much that made you cry at night. Happy reading!
"Anybody that ties you to a chair at gunpoint is a bad guy. Do I really need to explain this?"