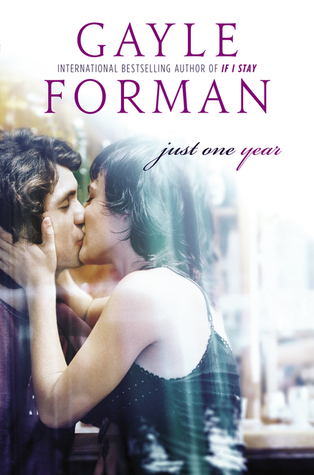 Just One Year
(Just One Day #1)
by: Gayle Forman
★★★★½
Just One Day. Just One Year. Just One Read.
Before you find out how their story ends, remember how it began....
When he opens his eyes, Willem doesn't know where in the world he is—Prague or Dubrovnik or back in Amsterdam. All he knows is that he is once again alone, and that he needs to find a girl named Lulu. They shared one magical day in Paris, and something about that day—that girl—makes Willem wonder if they aren't fated to be together. He travels all over the world, from Mexico to India, hoping to reconnect with her. But as months go by and Lulu remains elusive, Willem starts to question if the hand of fate is as strong as he'd thought. . . .
The romantic, emotional companion to
Just One Day
, this is a story of the choices we make and the accidents that happen—and the happiness we can find when the two intersect.
my thoughts
How to explain how much I hated and loved this book? I mean, I haven't had one of this relationships before with a book. When I do hate with all my heart the book, but kept reading because I was really loving it. I felt so frustrated after reading this book and even more after
that
. I mean, what kind of person left us like that? But by all means I love the author because theres a story after this end and I still love her after making me feel all...
THIS
.
"The truth and its opposite are flip sides of the same coin."
I started the series long ago, because they were almost living in my bookshelf without being read and after a good time hearing them laugh about me, I picked them up. I do not regret it, but certainly made my life a little rough with all this thinking. After finishing
Just One Day
I obviously had to pick up the next book right away. So I did, and oh God what a disaster I became. First, I lost my lovely and only bookmark I owned (which I'm still crying about). Then, the book didn't picked my interest. And last, I don't know how, but I keep up reading just because I wanted to know. Curiosity won! I wanted to know what happened to Willem. Why he disappered? WHAT HAPPENED?
"And so I kissed her. Like I'd been expecting her all that time..."
After reading this book, I don't have any questions... except that I do want an end (which I will read soon). This book made my insides melt and go solid back again. I don't know how to explain the feeling when someone is actually telling you something but its not right at you. After this book, I want my own Willem de Ruiter. At first, I thought so poorly of him (and kinda still do), but that changed and I fell in love with him. How much do I want to be inside that book? An infinity and beyond.