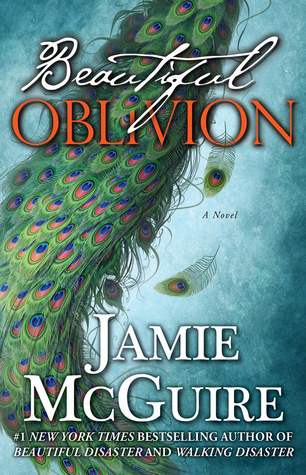 Beautiful Oblivion
(Maddox Brothers #1)
by: Jamie McGuire
★★★★½
Fiercely independent Camille "Cami" Camlin gladly moved on from her childhood before it was over. She has held down a job since before she could drive, and moved into her own apartment after her freshman year of college. Now tending bar at The Red Door, Cami doesn't have time for much else besides work and classes, until a trip to see her boyfriend is cancelled, leaving her with a first weekend off in almost a year.
Trenton Maddox was the king of Eastern State University, dating co-eds before he even graduated high school. His friends wanted to be him, and women wanted to tame him, but after a tragic accident turned his world upside down, Trenton leaves campus to come to grips with the crushing guilt.
Eighteen months later, Trenton is living at home with his widower father, and works full-time at a local tattoo parlor to help with the bills. Just when he thinks his life is returning to normal, he notices Cami sitting alone at a table at The Red.
As the baby sister of four rowdy brothers, Cami believes she'll have no problem keeping her new friendship with Trenton Maddox strictly platonic. But when a Maddox boy falls in love, he loves forever—even if she is the only reason their already broken family could fall apart.
my thoughts
A day has passed and I still have the same thought of yesterday.
What the actual fuck?
And that was actually my first reaction after reading the very last line of this beautiful book. Writing about the end before the beginning is always my thing, but I sure need to let that out. My first impression after actually finishing... beautifully perfect. I wouldn't change a thing. Okay, maybe some.
"Anything to do with the Maddoxes is never boring."
If you haven't read the other books (which are like the prequel, first spin-off or whatever you want to cell them) of a Maddox boy. Don't worry! You can happily read this one and enjoy the others later. I do warned that you can be a little bit spoiled about that Maddox boy story in this book, but nothing to be scared off. If you did read those books, then this time (in this book) time goes back a little bit before Travis (which I will called Trav) met Abby (which I may call Pigeon once in a while). But this book isn't about Trav... is about one of his older brothers, Trenton (which I will refer was Trent). The two Maddox boys are very close always hanging around everywhere together. The story is made by the girl's point of view, which she is Camille (aka Cami). Apparently, they are right for each other but everyones knows that except for them. Do that story sounds familiar to you?
"I was in trouble. Big, disastrous, Maddox trouble."
I know that I cannot compare brothers, but Trav and Trent have so much in common. I mean, the use almost the same tactics and think with their dick before anything, except when they actually see the only girl that they can't get (Pigeon and Cami). Just like the Maddox boys, Pigeon and Cami have some similar things... the fact that they don't want to do something with a specific Maddox boy, but they obviously were already trap in their nets and lastly, were in love, happily ever after. Comparing characters is isn't good, but God they DO look alike.
"I've had a lifetime of wrong. You're the only thing that's right."
Anyways... the story. Like I said, I love it. I would totally read it again soon. I will going to but the next books that come out and you must give this book a chance. Its totally worthy and a fast read (at least for me). The thing I loved the most was the book cover and the inside of the book (the peacock feathers everywhere). READ IT!