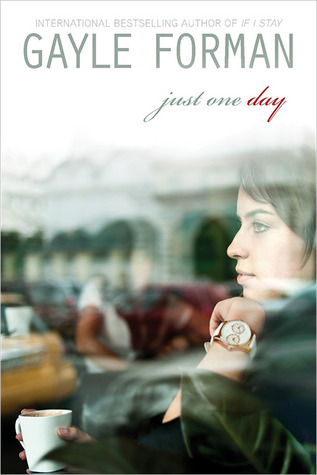 Just One Day
(Just One Day #1)
by: Gayle Forman
★★★★½
When sheltered American good girl Allyson "LuLu" Healey first meets laid-back Dutch actor Willem De Ruiter at an underground performance of
Twelfth Night
in England, there's an undeniable spark. After just one day together, that spark bursts into a flame, or so it seems to Allyson, until the following morning, when she wakes up after a whirlwind day in Paris to discover that Willem has left. Over the next year, Allyson embarks on a journey to come to terms with the narrow confines of her life, and through Shakespeare, travel, and a quest for her almost-true-love, to break free of those confines.
my thoughts
I got some issues with this book. First, I have this book (and the sequel too) on my bookshelf for quite some time feeling sad because I haven't read them. So when I finally decide to pick it up, its very boring at the beginning. I remember hearing (because I had the audiobook too) the first two chapters and throw it away in my backpack without another glance. Like a week later, I decided to go ahead again and keep reading. It got interesting, but then again flat. So finally, this week I said that I need to finish it and so I did.
"We are born in one day. We die in one day. We can change in one day. And we can fall in love in one day. Anything can happen in just one day."
Allyson if the kind of girl that you want to beat her up just so she muster up and take everything in her hands. I swear it was so nerve-racking keep reading something about how scared she was or how that it wasn't like her or even not telling what she really thought because of
x
reasons. When she became "Lulu", that's when things got interesting. After all the "Lulu" thing crash until it met the floor, yes I got bored, but it really became bored. I hated the scenes when she do what her parents said and not what she wanted. I love when she revealed the truth about she not liking science and that she wanted to go back to Paris. I love how she made Dee her best friend after all. I love that no matter what, she was decided to go to Paris and look for him and
find
him.
"You have to fall in love to be in love, but falling in love isn't the same as being in love."
As you can see, the book for me was ups and downs. Instead of beginning going up, it went down, until she decided to go to Paris with a total stranger (Willem) and
carpe diem
. From there to when both of them took different routes its an up, but past there is a down and it goes even more down than in the beginning. It goes right up again when she decides to take her things in her hands and do what she wanted. It goes so up and it never stop until the end that its the highest point. I don't love the end, but neither hate it because "duh" its a cliffhanger, but then I like it a little bit.
"When the sun shines, you let it shine on you."
I love the characters, like Dee, Allyson's grandma and Wren. I hate/love characters as Céline, Melanie and Allyson's parents. The book was ok, not drastically good to call a favorite, but I like it and it had good quotes, as you can see. I enjoy it and maybe you will too. Maybe, just by accident, you should read it.
"C'est courageux d'aller dans l'inconnu': It is courageous to go into territory unknown."