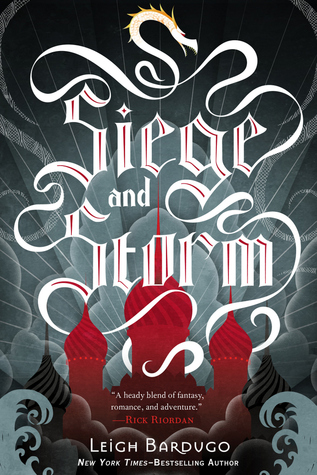 Siege and Storm
(The Grisha #2)
by: Leigh Bardugo
★★★★☆
Darkness never dies.
Hunted across the True Sea, haunted by the lives she took on the Fold, Alina must try to make a life with Mal in an unfamiliar land. She finds starting new is not easy while keeping her identity as the Sun Summoner a secret. She can't outrun her past or her destiny for long.
The Darkling has emerged from the Shadow Fold with a terrifying new power and a dangerous plan that will test the very boundaries of the natural world. With the help of a notorious privateer, Alina returns to the country she abandoned, determined to fight the forces gathering against Ravka. But as her power grows, Alina slips deeper into the Darkling's game of forbidden magic, and farther away from Mal. Somehow, she will have to choose between her country, her power, and the love she always thought would guide her--or risk losing everything to the oncoming storm.
The Too-Clever Fox
(The Grisha #2.5)
★★★★☆
In Ravka, just because you avoid one trap, it doesn't mean you'll escape the next.
Little Knife
(The Grisha #2.6)
★★★★★
In this third Ravkan folk tale from Leigh Bardugo, a beautiful girl finds that what her father wants for her and what she wants for herself are two different things.
my thoughts
So, it wasn't like the first book, but it kept me interested and enjoy it. That's basically my overall thinking of
Siege & Storm
. The first book was sooo good that it was almost a let down reading this book. Again, overall, it was just good, but not
really
good. You get it?
This book follows some days/weeks later after
Shadow & Bone
. Mal and Alina are in a town where they aren't questioned of how strange couple they are. Somewhere "safe", until they are found, captured and inside a ship following another mythologic creature that will amplify Alina's powers. What the Darkling may not know is that the ship is owned by Sturmhond, a pirate. Pirate's follow people who pay the most and the Darkling was certainly not the one. When the true reality of Sturmhond is revealed, is only up to Alina if he is worth trusting him. A new good king, may arrive to Ravka, but under whose expense?
Really, my biggest problem with this book was that Mal and Alina weren't never truly happy and I despise that because it made me doubt if they were a ship or just my imagination. Plus, in this book there is so much suffering and everything is confusing. Going back to Little Palace and sleep where the Darkling once slept mustn't be easy to Alina. Being so near and so far away from Alina wasn't good for Mal and he was just reckless doing everything to
hurt
Alina [and it hurt me too]. Watch those two dancing back and forth, but never in the same direction was hurting. That's basically why I didn't love this book... it hurt me.
Sturmhond remind Alina of the story of the
Too-Clever Fox
, so I had to read it and to read as well
Little Knife
. Those stories are the ones you tell your children so they behave. I felt like a kid reading a child's book and learning how to be a good and
clever
person. Both stories go around being clever and not to underestimate nature, because somehow she can screws us around. We live of it, but she does not live of us. I really like them, but the
Too-Clever Fox
story was kind of sad for me, but true.
Overall, again, Leigh Bardugo keeps making a really really good world and its worth reading it. If you really love fantasy you should, by all means, read her books... like as soon as you can, which means yesterday.