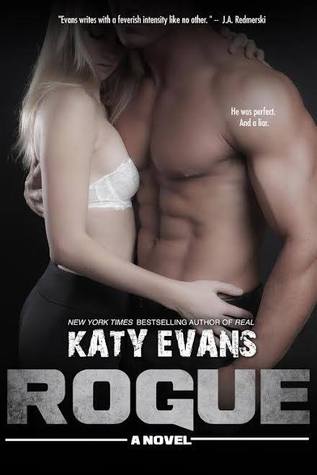 Rogue
(Real #4)
by: Katy Evans
★★★★★
Greyson King...
My boyfriend. My friend. My protector. He's the reason I wake up every morning with a smile on my face, and the reason I fall asleep limp, worn out, and aching for his warm arms around me. When we make love, he says my name like it means something. Like I mean something.
He
Lied.
His name is Greyson King, but his alias is Zero.
There's zero trace of him, he has zero past, and now I know that with him, I will have zero future.
He may leave no trace of him anywhere, but his imprint is in me, in my very soul--and I hate that a mere look at him commands the beat of my heart. The temperature of my body.
I've looked for love my entire life. I've waited for the butterflies, the rainbows...
Instead I'm in a free fall of emotions and there's no one to catch me but the one man I should be running away from. The one man I thought was my prince charming.
Except this prince charming went rogue.
Greyson will stop at nothing to make me be with him. He'll let no one stand in our way, will allow no one to threaten me, and maybe this is what scares me most of all...
What will my rogue do to keep me?
my thoughts
You know, I was a little dissapointed when I figured out that this book was not of Remy & Brooke, but then I was thrilled to read about how Melanie was going to end up. She always bragged that she wanted to find out her ONE and only, so when it happens it nearly knocks her out. I missed Remy, I cannot say otherwise, but Greyson was a really good sustitute. I plain love him, so it was a great read.
The book is told by Greyson and by Melanie, so we get the goodies from both of them. He is Greyson, but his alias is Zero. What he does is basically illegal, but anything that goes with the Underground fighting it is, right? If you bet and you lose, you have to pay and if you don't... get ready because Zero will approach and it may not be pretty. Our sweet Melanie had the toughest luck, or the best luck, in falling for him and nailing him. But she doesn't know his secrets and when she do, will she run away or stay?
Nothing was color pink for this two, basically it was Greyson's fault, but she wasn't easy either. But this couple were each other breathing air. I loved all their scenes and all their love. Even apart, they couldn't stop thinking about each other and I just love that. I loved how much love in this book were. I love every second of this book! Thank you very much, K. Evans.