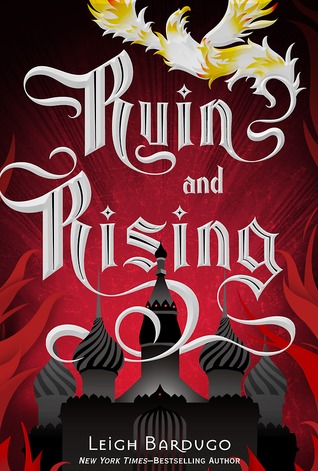 Ruin and Rising
(The Grisha #3)
by: Leigh Bardugo
★★★★½
The capital has fallen.
The Darkling rules Ravka from his shadow throne.
Now the nation's fate rests with a broken Sun Summoner, a disgraced tracker, and the shattered remnants of a once-great magical army.
Deep in an ancient network of tunnels and caverns, a weakened Alina must submit to the dubious protection of the Apparat and the zealots who worship her as a Saint. Yet her plans lie elsewhere, with the hunt for the elusive firebird and the hope that an outlaw prince still survives.
Alina will have to forge new alliances and put aside old rivalries as she and Mal race to find the last of Morozova's amplifiers. But as she begins to unravel the Darkling's secrets, she reveals a past that will forever alter her understanding of the bond they share and the power she wields. The firebird is the one thing that stands between Ravka and destruction—and claiming it could cost Alina the very future she's fighting for.
my thoughts
Finally, the end of the series is here. We all will know what will happen in Ravka, with the Darkling, with Alina and even Mal and Nikolai. We will know every secret that its hidden and once for all everyone will be happy. That's why I thought, and let's be clear, it is not exactly true that it happened. Let's say that the book and my mind met in a happy medium. This book was def better than the second one, but not as the first one. So, overall, the book was really good, but not perfect.
The Sun Summoner, aka Saint Alina, has fallen and its hidden for good. In an underground chapel she is, but will she stay there and hide forever praying and whatelse? You are wrong, my friend. She is a fighter and just like any Grisha, she needs freedom, but it will cost her. What she needs, what Ravka really need is to kill the Darkling and get rid off the Fold. Not an easy task, but if Alina finds the firebird, the third amplifier, she will be invincible. But again, what does she need to give up to conquer what she needs? Is it her life or someone else?
If I thought that the last book was full of death, I was freaking wrong. This book broke up the left pieces I had and killed me. Damn! I didn't want anymore people dying and there it went the author and kill everyone I liked. At least, some characters survive to make Ravka the country it was before, a happy and justice one.
About the end, let's say that I found I can be happy if my ship end up together. Eventhough I didn't like how they end, but if they are together its fine, right? Ugh. I have a hard time believing this series is over. But there will be more of this world in other series that its coming, so stay tooned. Again, if you want a really good fantasy series, man, this IS your pick.