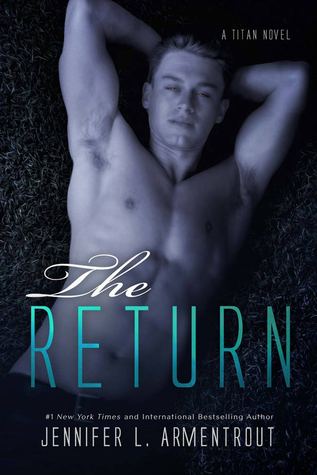 The Return
(Titan #1)
by: Jennifer L. Armentrout
★★★★★
The Fates are cackling their bony asses off…
It's been a year since Seth made the deal with the gods that pledged his life to them. And so far, the jobs they've given him have been violent and bloody–which is kind of all right with him. But now Apollo has something else in mind for Seth. He's got to play protector while keeping his hands and fingers off, and for someone who really has a problem with restraint, this new assignment might be the most challenging yet.
Josie has no idea what this crazy hot guy's deal might be, but it's a good bet that his arrival means the new life she started after leaving home is about to be thrown into an Olympian-sized blender turned up to puree. Either Josie is going insane or a nightmare straight out of ancient myth is gunning for her.
But it might be the unlikely attraction simmering between her and the golden-eyed, secret-keeping Seth that may prove to be the most dangerous thing of all.
Because history has once again been flipped to repeat.
Book 1 in the new adult paranormal TITAN series, spin-off to the best selling COVENANT series.
Something is very clear right now for me, if I loved the Covenant series then I freaking married to this new series. Its first book was beyond anything good and simply will be my number one favorite of my favortie author, JLA. If you haven't read ANY of her books... what are you waiting for? You are missing a lot!
When I first heard that Seth was going to a book, but then it turned out in a series (which be probably a trilogy), I freaked out. Like I wanted to have it so bad and then I wait for so long, I even pre-order it. When the book did arrive (which came almost a week after it came out), I just couldn't not pick it up, so I did. Read it in basically a day and LOVE it. Like I said, I thought that I loved Aiden and Alex relationship (I still do), but Seth and Josie will be this year number one OTP and if it sinks... I will certainly sick with it. If you haven't read the Covenant books, then you shouldn't read this review because it may or may not contain some spoilers.
If you did read, then you know everything of how Seth happy ending was. He made Aiden and Alexandria relationship the best because he taught that he made a lot of damage (which he did) and wanted to make them happy. He did, but his end didn't turned out like I would like to end in a book. Thanks this beautiful author, now we have a little hope that Seth will have his happily ever after, but it will be hard, of that I assure you. He is practically the gods bitch and everything they say, he must follow. When Apollo appears (out of nowhere like always) which instructions for him to find a young woman (aka Josie), protect her and guide her to the Covenant before its too late, a lot of questions arise. Who is she? Why a mortal needs protection? and Why the gods are so interested in her? Other thing that Seth didn't expect was the Josie is beautiful and falling in love with her can backfire him. But the Fates are crackling their bony asses off!
JLA does have a lot of fabric to cut here. The story is so complex and so simple for me that I don't even know how she will end this series. And I hope, no scratch that, I demand a happy ending in where Seth and Josie lived happily ever after. In this book... it ended very hopefull and swoon worthy, so I totally expect it. I laugh a LOT in this book and I expect the same in the following ones, plus a LOT of sexy scenes, please. Again, I really really recommend this book to anyone that read the Covenant and even if you didn't read it because you don't want to, in this book is explained everything that happened in that series so you can go straight to read this one. Please, read it.